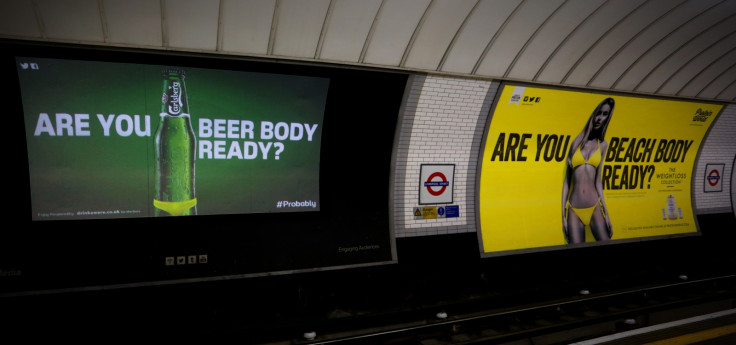 Carlsberg has parodied Protein World's controversial "beach body ready" campaign with its own London Underground adverts.
The ad features a green beer bottle in a yellow bikini along with the tag line "are you beer body ready?".
The digital poster will even briefly be displayed next to Protein World's original advert at Liverpool Street's Underground station before it is taken down, with the end of its campaign approaching.
The "beach body ready" campaign has come under huge criticism since it was first displayed, with more than 60,000 people signing an online petition demanding the adverts be removed.
The Advertising Standards Authority (ASA) has also announced it will launch an investigation to establish if the ads broke "harm and offence rules or is socially irresponsible".
Dharmesh Rana, senior brand manager at Carlsberg UK, said: "At Carlsberg, we're not bothered about beer drinkers being beach body ready, our priority is ensuring they're able to enjoy a nice, cold Carlsberg without worrying about their appearance.
"That's why we've decided to remind the public at major commuter spots across London that it's not about the way you look, or having probably the best body this summer, it's about enjoying a Carlsberg whether you're on the beach or at your local."
The advert even appeared to be a hit with Protein World, who tweeted a picture of the ad on its official account.