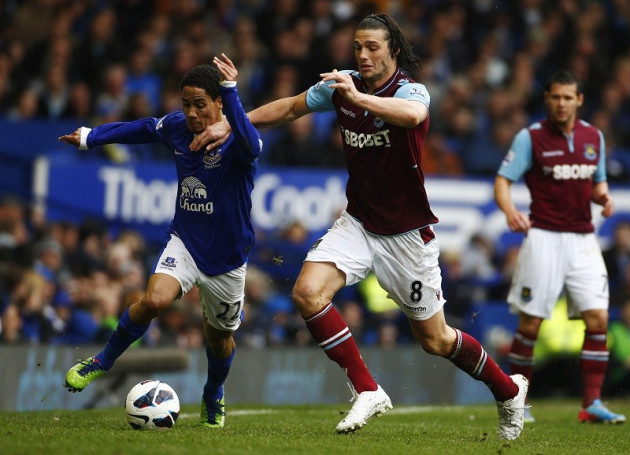 Sam Allardyce is hoping to discover when injured striker Andy Carroll will be fit and available to once again play for West Ham as the club's most expensive players continues to recover in Belgium.
Carroll has been working extremely hard to recover from a serious plantar fascia injury on the final day of last season. He returned to the club at the weekend to see the defeat against Manchester City but he has since returned to Belgium to work with renowned therapist Lieven Maesschalck and his team.
The Belgian doctor helped Vincent Kompany recover from a serious calf injury and has been working with Carroll for the last few weeks in order to help the England striker make a speedy recovery.
West Ham are desperate for the former Liverpool striker to make his long awaited return and it seems Allardyce could soon have news on a possible date.
"I will be speaking to the specialist over there to see whether he can give us at least a date when he thinks [Carroll] will be able to come back to us," said Allardyce.
"He is still improving week by week and is probably due back with us I would hope. It is very important we get him back as quickly as we can as I don't want to be continuing to play with no front man."
The Hammers have endured a difficult start to the season without Carroll as Allardyce has been forced to bring in free agents Carlton Cole and Mladen Petric to bolster his options.
Despite securing a shock 3-0 win away at Tottenham they were largely second best in the 3-1 loss to Manchester City at Upton Park.
West Ham fans will be keen to Carroll to return to add a physical presence and genuine goal threat, despite his somewhat poor record in front of goal for Liverpool and the east London club.
Carroll revealed that he is working hard in Belgium but did not give any update on when he would return when talking to the club's official website.
"I'm doing well over in Belgium and I'm enjoying working out there with Lieven and it's going great," said Carroll. "I am working hard every day and if I keep doing that then it shouldn't be too much longer.
"I've kicked on a bit from when I first went over there [three weeks ago]. I was in a boot and on crutches but it's obviously feeling a lot better and I'm starting to do heavier work, rather than just balancing. I'm starting to use weights and squatting a bit more, which is putting more pressure on my foot, which is a positive.
"Lieven has done a lot of things and had good things said about him, so it's brilliant for me to be working with someone like that. Hopefully, he can do with me the same as he has done with everyone else."