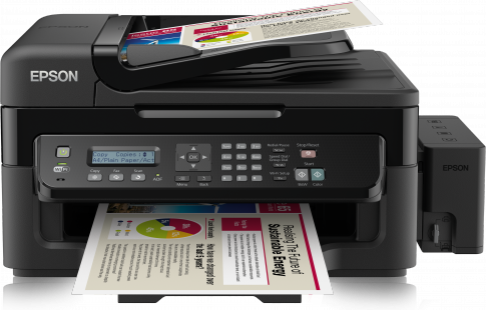 Conventional Cartridge driven Ink-Jet printers are potentially on the way out, as an entirely new printer technology takes shape in the form of EcoTank printers that have recently been unveiled by Epson.
Epson's EcoTank printers eliminate cartridges, and instead incorporate custom-made ink tanks that are mounted at the sides of the printer.
Epson claims that with this technology, people will be able to easily print pages for at least two years at a stretch.
The EcoTank printers recently unveiled by Epson are called the Epson EcoTank L355 and the EcoTank L55, and these devices are said to be capable enough of churning out at least 4,000 prints in Black and 6,500 colour prints.

The best part of Epson's latest EcoTank printers is their 'easy refillability.' All users need to do is open the custom-made ink tanks located at the sides of the printer, and just pour ink, and the device is all set for action.
The Epson EcoTank L355 and the L555 offer scan and copier features, along with the printing functionality. Both the devices can also be connected to computers via Wi-Fi, apart from the conventional USB port interface mechanism.
Also, both the devices incorporate a 30-page document feeder, and can be used as Fax machines.
For people buying the latest 'InkTank' printers, Epson is offering a warranty on the entire InkTank assembly. The company is providing a one-year/30,000 pages warranty on the new printer devices.
The printers are also currently available to buy in the United Kingdom. People can check out the Dixons Carphone Warehouse which has priced the Epson EcoTank L555 at £329, and the EcoTank L355 at £249.