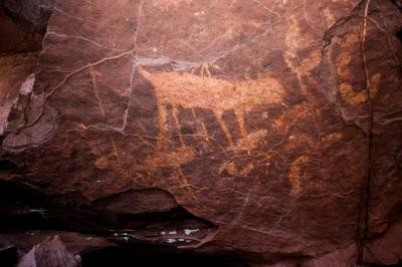 Researchers from a New York-based conservation organisation have discovered cave drawings believed to have been made by hunter gatherers 4,000 to 10,000 years ago in forests in Brazil.
Environmentalists at Wildlife Conservation Society stumbled across the cave paintings while they were tracking white-lipped peccaries, herd-forming pig-like animals that are indicators of healthy forests.
While gathering environmental data in forests that link Brazil's Pantanal and Cerrado plateau region, researchers came across the cave drawings.
"While following signals from radio-collared white-lipped peccaries and the foraging trails of peccary herds, the team encountered a series of prominent sandstone formations with caves containing drawings of animals and geometric figures," WCS researcher Alexine Keuroghlian said in a statement.
"Since we often work in remote locations, we sometimes make surprising discoveries, in this case, one that appears to be important for our understanding of human cultural history in the region," he added.
Findings of the discovery, which was made in 2009, have been published in the latest issue of the journal Revista Clio Arqueológica.
According to researchers, the drawings were made by nomads who either lived in the caves or used them specifically for art works.
While some of the drawings match with the traditional art style of the region, some of them are surprisingly done in different styles.
The drawings depict human-like figure and symbols, assortment of animals such as deer, large cats, reptiles and birds, as well as geometric symbols.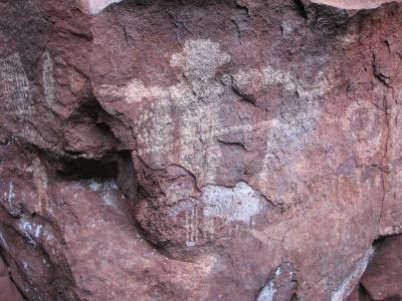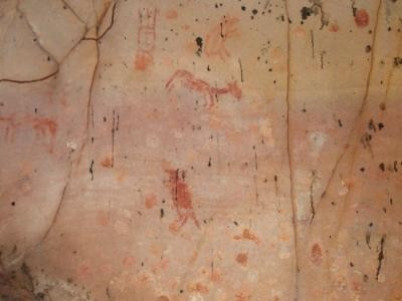 Researchers said that geological dating at the sites would help in fully interpreting the drawings.
"These discoveries of cave drawings emphasize the importance of protecting the Cerrado and Pantanal ecosystems, both for their cultural and natural heritage," WCS's director and an expert of Mayan archaeology, Julie Kunen, said.
"We hope to partner with local landowners to protect these cave sites, as well as the forests that surround them, so that the cultural heritage and wildlife depicted in the drawings are preserved for future generations."
Read: Female Artists Responsible for Majority of Prehistoric Cave Paintings [PHOTOS]