Protesters are campaigning for a statue of Cecil Rhodes to be removed from an Oxford University college. Rhodes, a British colonial-era businessman, diamond tycoon and politician in South Africa, is remembered as one of the people who prepared the way for racial segregation by working to change laws on land ownership and voting. Thousands of university students have tweeted for his statue – which marks his financial contribution to Oriel College – to be removed alongside the hashtag #RhodesMustFall.
Rhodes was born in 1853 in Bishop's Stortford in Hertfordshire, England, but moved to South Africa at the age of 16 to work on a cotton farm. After diamond mining grew in popularity in the early 1870s, Rhodes and his brother left the farm to work at the new diamond field in Kimberley, in the Northern Cape Province of South Africa.
He returned to England in 1873 to complete his studies at Oriel College in Oxford, but stayed for only one term, returning to Oxford once again several years later to continue studying. In Rhodes's will, he left a large sum of money to Oriel College. Every year, dozens of international students are chosen to study at Oxford under the scholarship named after the politician.
These include Australian Prime Minister Malcolm Turnbull and his predecessor Tony Abbott. In December 2015, Abbott said Oxford risked damaging its "standing as a great university if it were to substitute moral vanity for fair-minded enquiry" if it removed the Rhodes statue.
Rhodes went on to build a career in politics and was elected to the Cape Parliament, South Africa's governing body, in 1880. He later made his fortune by forming the De Beers Mining Company in 1888, which until recently controlled the global trade.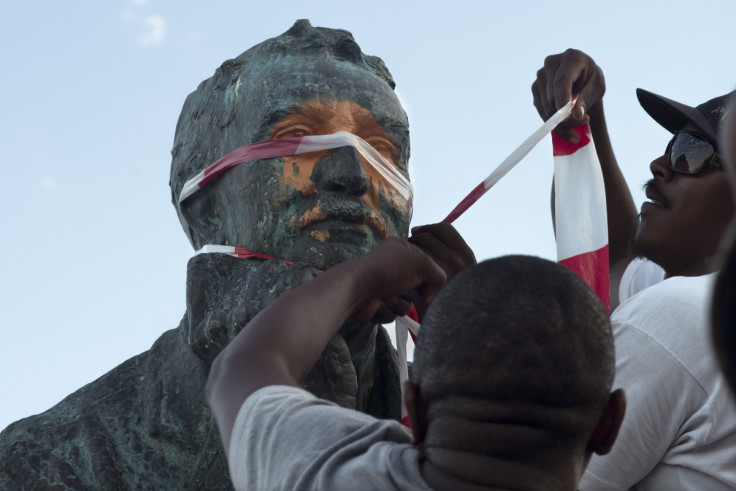 A believer in British colonialism, Rhodes was the founder of the southern Africa territory of Rhodesia – which is now Zimbabwe and Zambia – which was named after him in 1895.
In 1890, Rhodes became prime minister of the Cape Colony. He introduced the Glen Grey Act, which established a system of individual land tenure, rather than communal, while creating a labour tax to force Xhosa men into employment on commercial farms or in industry. His government also restricted the rights of black Africans by raising the financial qualifications for voting.
Rhodes believes the English were a "master race" – and was key in the seizure of large areas of African land. "I contend that we are the first race in the world, and that the more of the world we inhabit the better it is for the human race," he once said.
Rhodes also backed the Jameson Raid of 1895, in which a small British force tried to overthrow the Transvaal Republic – an area controlled by Dutch-speaking Afrikaner settles which was rich with gold deposits. The botched raid helped instigate the Second Boer War, which killed thousands.
One of Rhodes's dreams was for a "red line" railway across Africa from Cape to Cairo, running through British territory. Several leaders in countries affected by Rhodes have chosen to take down monuments to Rhodes, including Robert Mugabe in Zimbabwe.