Stand up To Cancer saw some of Britain's best-loved celebrities join forces for a TV special to raise funds for cancer research.
David Beckham, Naomi Campbell, Kate Moss, Noel Gallagher, Andy Murray, Ed Sheeran, Little Mix, Mel B, Joey Essex, Derren Brown, Martin Freeman and actor Michael Sheen, were among the stars who joined comics and TV hosts for a night of entertainment dedicated to raising awareness of the disease and all important funds to support cancer research.
Supermodels Campbell and Moss were joined by High Flying Birds front man Noel Gallagher for a celebrity edition of Gogglebox.
The stars kicked back as they offered their insights on shows like Strictly Come Dancing and The X Factor. "I think it's more ludicrous than Downton Abbey," said Gallagher as they watched Mark Wright take to the floor with his partner for Strictly dressed as Superman.
"That's f**king psychedelic,' Noel says, 'I could do that, I've done that. He's so intense.' 'He's so Clark Kent, OH!,' said Moss 'Oh My God did you see that?' 'We've done this in Mustique haven't we?' Noel reminds Kate, 'we did it at Jagger's house."
The trio then turned their attention to The X Factor as they pondered the former The Face contestant Chloe-Jasmine's performance of Britney Spears Toxic. "Is she a bit of a doufas?" Gallagher asked Campbell. "'She's Downton Abbey," the model responded. "No she's not Downton Abbey though, isn't she Essex?" Kate chimed in.
Meanwhile, Kate Moss expressed her delight at seeing Italian singer Andreas perform on the show.
"Don't talk to me about Andreas," the model cried. "He's my favourite, I'm obsessed." The trio also watched a special video showing the children who are suffering with cancer, leaving both Moss and Campbell in tears.
The #StandUpToCancer Selfie. Please text "FIVE" to 70404 to donate £5. Together, we will beat cancer. pic.twitter.com/nl7B8DN20X — The LASS Bible (@LassBible) October 17, 2014
Another highlight of the Stand Up To Cancer gala was a comic sketch featuring tennis champion Andy Murray and comedian Richard Ayoade.
The tennis star joined the actor/director as the executive consultant producer casting for a movie based on his life.
The sketch featured celebrity auditionees including Pharrell Williams, Michael Sheen, Ed Sheeran and Cesc Febregas all trying out for the part of Andy, while Britney Spears won the role of Murray's girlfriend after demonstrating a cockney accent.
The gala event also saw Hollywood stars lending their support to the cause with Rob Lowe, Gwyneth Paltrow and Lindsay Lohan pledging their support for the fundraiser.
As if we need anymore reason to love David Beckham. #StandUpToCancer #DavidBeckham #SU2C2014 pic.twitter.com/eEi6vr4Pj1 — The LASS Bible (@LassBible) October 17, 2014
Paltrow who lost her father Bruce to the disease said in a recorded video message: "Like so many people I have lost someone I love to cancer. Your money will help fund critical research that will help save lives ... Stand Up to Cancer With Us." Lindsay Lohan who is currently performing in the West End production of Speed the Plow appeared on the live show.
"I raced over here from the palace theatre to be here To have to rush somewhere for something that's really important I'm really honoured so thank you for having me here.," she said.
The show also saw the hosts of The Last leg appear naked on the show, having pledged to appear full frontal if the fundraiser collected over £10 million.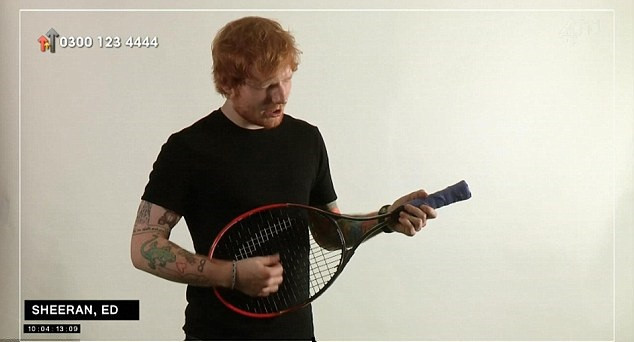 Providing detailed information about how to carry out checks for signs of cancer, the gala also recounted the real life stories of so many brave cancer sufferers battling with the disease and those who have survived it.
The grand total raised by the British public was £14, 222,112.
Call 0300 123 4444 to make a donation or text FIVE or TEN to 70404 to donate £5 or £10 to help beat cancer sooner.
You've donated an amazing £14,222,112! We're up late - there's plenty more entertainment where that came from... #StandUpToCancer.

— Channel 4 (@Channel4) October 17, 2014