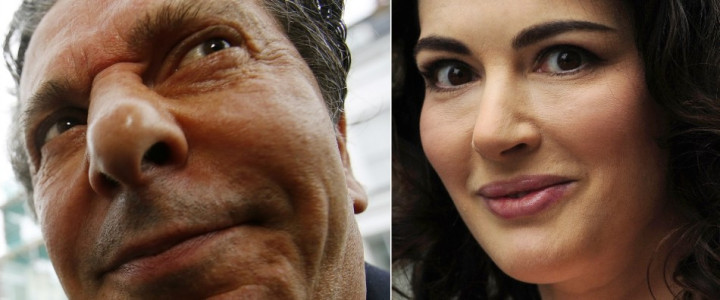 Super-wealthy spouses at war Nigella Lawson and Charles Saatchi will not fight for money during their divorce.
TV cook Lawson and PR guru Saatchi are splitting up after he publicly throttled her in a swanky restaurant in Mayfair, central London, in June. He was cautioned by police over the incident.
Saatchi, 70, insisted that it was during a "playful tiff" at Scott's restaurant but was furious by the refusal of Lawson, 53, to speak up in his defence.
The pair are expected to formally go their separate ways within weeks, without making any financial claims on each other. They will be getting a quickie divorce.
In a statement the pair said: "A divorce will proceed on the undefended basis, the decree nisi is to be pronounced on 31 July, and neither party will be making any financial claims against the other.
"Contrary to some reports, Charles Saatchi has not consulted lawyers and has represented himself throughout.
"Both parties would appreciate privacy for themselves and their children at this difficult time."
Lawson has called in Fiona Shackleton, the lawyer who helped ex-Beatle Sir Paul McCartney get Heather Mills out of his life in 2008.
Since leaving the £14m family home in Mayfair, Lawson has moved in to a £10,000-a-week serviced apartment in Mayfair.
Saatchi said: "I am disappointed that she was advised to make no public comment to explain that I abhor violence of any kind against women, and have never abused her physically in any way."
Lawson and Saatchi married in 2003