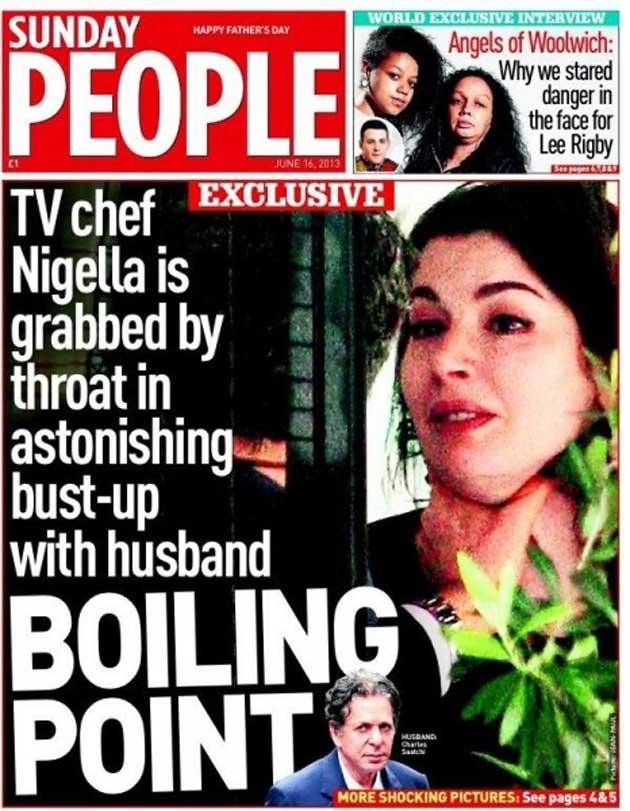 Police are investigating after a national newspaper published photographs showing art dealer Charles Saatchi apparently choking his wife Nigella Lawson in full public view at a fashionable London restaurant.
The shocking pictures, which were printed in the Sunday People, showed Saatchi repeatedly grabbing his wife by the neck, clutching her throat and twisting her by the nose.
Witnesses, none of whom intervened to stop Saatchi, described Lawson as appearing visibly scared and tearful as events unfolded at Scott's restaurant in Mayfair.
A Metropolitan Police spokesman said that while Lawson had not made a complaint herself, officers were nevertheless looking into the evidence.
"Officers from the Community Safety Unit at Westminster are aware of the Sunday People article," said the spokesman. "Enquires are in hand to establish the facts of the incident."
Neither Saatchi, 70, nor Lawson, 53, has commented since the incident. Similar pictures showing Saatchi putting his hand over his wife's mouth in the same restaurant appeared in the press last December.
The couple are said be regulars at the restaurant, which is popular with celebrities including Pippa Middleton, Jeremy Clarkson and Simon Cowell.
Lawson and Saatchi always take the same table, which is outside ­as Saatchi is a smoker. The table is partly sheltered by olive trees and shrubs, but the incident could be clearly seen and heard by diners and passers-by on the street outside.
"It was utterly shocking to watch," a witness told the Sunday People. "I have no doubt she was scared. It was horrific really. She was very tearful and was constantly dabbing her eyes.
"Nigella was very, very upset. She had a real look of fear on her face. No man should do that to a woman. She raised her voice and got angry but at the same time was trying to calm him down, almost like you would try to calm down a child.
"The kiss was a strange thing. He was being intimidating, threatening. And yet she kissed him. She appeared to be a woman who loves him but was clearly unable to stop him being abusive, frightening and disrespectful to her."
Saatchi, who is 6ft and 17 stone, then walked out, leaving his wife sobbing at the table before she joined him in their cab.
The onlooker said: "He looked guilty. It was clear he knew he'd done something wrong. He was menacing, there's no ­question. She had been abused and ­humiliated in public."
This morning Saatchi left his multi-million pound home in Chelsea without speaking to reporters.
Lawson, a journalist, TV chef and daughter of former UK chancellor Nigel Lawson, left the property separately about 90 minutes later. Her son Bruno by her first marriage to journalist John Diamond was seen packing suitcases into a waiting taxi.
Another source told the tabloid: "Nigella has eclipsed him and he's grumpier. His ultimate act of rebellion has been to reject her food.
"I have a ­feeling that drinking and smoking come into this as well. Her first ­husband John Diamond died of throat cancer in 2001. Yet Saatchi smokes."
The law enables police to bring a prosecution in domestic violence cases, even in cases where the victim has made no complaint.
Saatchi set up the Saatchi and Saatchi advertising agency with his brother Maurice in the 1980s. His patronage has helped make the careers of internationally renowned British artists such as Tracey Emin and Damien Hirst.
The photographs casued widespread revulsion. Fans of Nigella, who became a bestselling author with her book How to be a Domestic Goddess, voiced their shock on Twitter and other sites.
Former deputy Labour leader John Prescott called on Evening Standard editor Sarah Sands to sack Saatchi, who writes a column for the paper.
"I assume, as Evening Standard editor, you will be axing Charles Saatchi as one of your columnists," Prescott wrote in the wake of the revelations.
Former Tory MP Louise Mensch wrote: "Lots of people saying it's Nigella's business. I don't agree. An alleged assault photographed in a public place is everyone's business.
"The Saatchi story requires action from a number of people. Charles Saatchi will have to make a statement. So will the Met Police.
"I cannot see how Nigella Lawson can avoid it either, as a public figure. Allegations of domestic violence are often so tricky for victim."