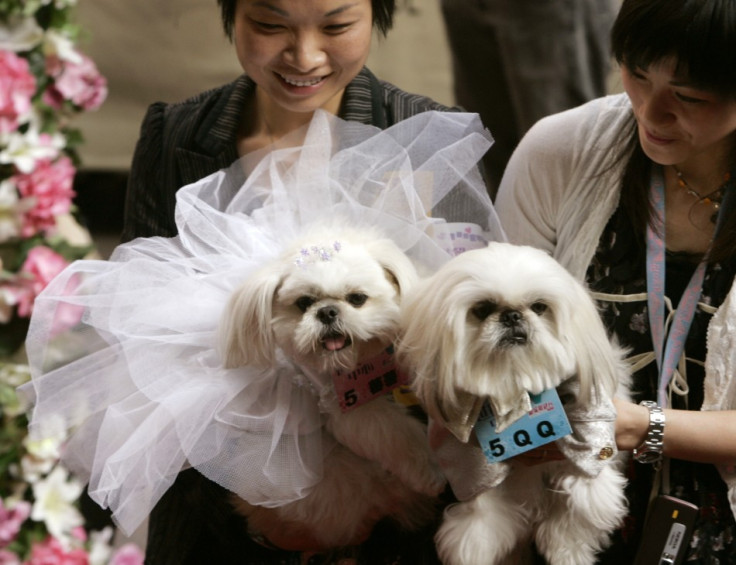 Some pet lovers give their pets a celebrity life, leaving millions of pounds in their name, while some others go for a celebrity name. According to data released by Petfinder.com, an online database of adoptable pets, "Barry Meow-nilow" tops the list of celebrity name-a-likes of adoptable pets in 2011.
Other celebrity name-a-likes are Katy Purry, Ally McBeagle, Brad the Pit, Rascal Catts, Ringo Starr, Cindy Dogford, Vera Fang, and Lady Gaga, according to Petfinder. Actor George Clooney has adopted a Cocker Spaniel mix named Einstein from a shelter a year and a half ago.
Among the popular names, "Bella" is the favourite and remained strong since 2010 as the name of both dogs and cats because of the popularity of the "Twilight" series.
According to Petfinder, "Buddy" is the most popular adoptable pet dog name in 2011, for a fifth year in a row and "Lucy" remained the most trending name for the adoptable cats. "Smokey" and "Charlie" are two other popular names.
The top 10 names of the pet dogs in 2011 are Buddy, Max, Daisy, Bella, Lucy, Molly, Charlie, Jack, Sadie and Rocky, according to Petfinder. For the felines, it was Lucy, Smokey, Bella, Charlie, Tiger, Oreo, Daisy, Molly, Max and Midnight.
"Everybody loves to have a Buddy, but many shelters and rescue groups give their adoptable pets creative names to help them stand out from the crowd," said Betsy Banks Saul, co-founder of Petfinder, in a statement.
"Dodgy Wodgy Schnookum Doodle" is the most unusual pet name selected by the pet database company from among the name submissions from the rescue groups and shelters. Other unusual names in the list are Polly Picklepuss, Sukimayapoo, Iben Hooked, Blue Sparkles McGillicutty, Killer the Dog Dominating Declawed Cat, Purr-etzle, Fluff Dog Millionaire, Jimmy Chews, Ishkabibble.
A common problem faced by pet adopters is changing the name of the pet after being adopted. According to the animal behaviourists one could add the new name to the old name for a few weeks and gradually phase out the old name.
Among the millionaire pets, a German Shepherd, "Gunter" inherited £90 million pounds and is the richest pet dog in the world. Among its peers Chimpanzee Kalu owns £40 million and an Italian cat Tommasino has inherited £10 million.