Gunfire, grenade explosions and threats of violence prevented many from voting on the first day of a constitutional referendum intended to help end nearly three years of instability in the Central African Republic. A Red Cross official said five people were killed and 34 others were wounded during clashes in the capital Bangui. Voting was carried over to a second day.
Fighters armed with automatic weapons and rocket-propelled grenades launched several attacks in what General Bala Keita, commander of Minusca (the UN peacekeeping force in Central African Republic), described as an attempt by "spoilers" to block the vote. Minusca soldiers, brought in to protect poll workers and voters, came under fire in the mainly Muslim PK5 district of the city. A grenade exploded near a polling station in the northern Gobongo neighbourhood of Bangui. In Kaga Bandoro in the country's north, an armed group threatened to kill people who went to vote. In the central town of Bria, voting materials were set on fire.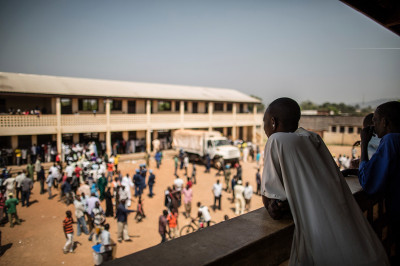 The former French colony descended into chaos in early 2013 when mainly Muslim Seleka rebels seized control in the majority-Christian nation, committing abuses that led to reprisals by Christian anti-balaka militias. Thousands were killed in the ensuing violence and roughly one-fifth of the population were forced to flee their homes. Two successive interim governments, as well as thousands of UN and French peacekeepers, have struggled to stop the fighting and disarm militias.
The proposed constitution limits the power of the president and increases that of the parliament, creating a senate to compliment the already existing national assembly. It also establishes a Special Criminal Court to try serious crimes.