Pope Francis delivered a message of peace and reconciliation in a show of solidarity as he visited the Koudoukou mosque in the Central African Republic (CAR)'s capital Bangui, as the brutal killing of 100 Muslims raised security fears ahead of his visit.
The sectarian conflict erupted when Michel Djotodia, a Muslim, overtook Christian former president and long-ruling leader Francois Bozize in a coup in March 2013. As a result of the political unrest, the rebel Muslim "Seleka" movement and Christian "anti-Balaka" militias engaged in tit-for-tat brutality.
It is the Pope's first visit to an active war zone and the final leg on his three-nation African tour, which also took him to Kenya and Uganda.
Under heavy guard by armed UN peacekeepers and Vatican security, Pope Francis visited the PK5 district where around 15,000 Muslims are surrounded by Christian militias. The pope travelled in his open-air vehicle through the enclave despite the security risks.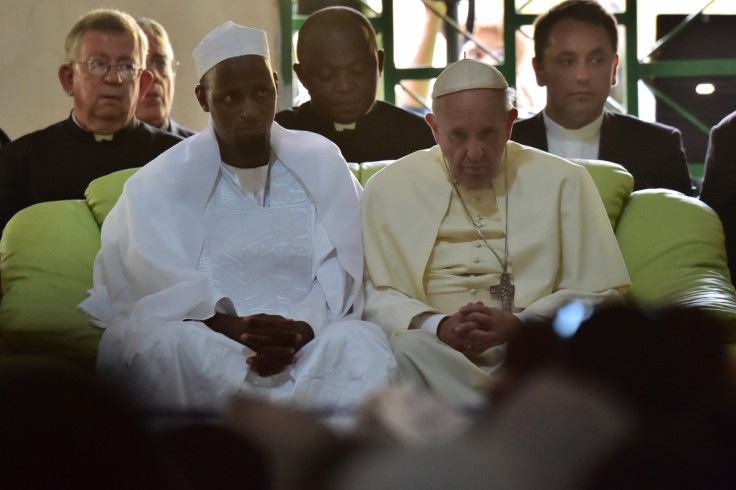 Ahead of his 26-hours visit in Bangui, the Pontiff said his trip would not be complete if it did not include his encounter with the Muslim community. After entering the mosque in the Muslim enclave of PK5, the Pope bowed towards the holy Muslim city of Mecca, saying "Christians and Muslims are brothers and sisters."
He told the several hundred men inside: "Together, we must say no to hatred, to revenge and to violence, particularly that violence which is perpetrated in the name of a religion or of God himself. God is peace. Salaam," he added, using the Arabic word for peace.
Tidiani Moussa Naibi, the chief imam at Koudoukou, thanked Francis for his visit, adding his coming was "a symbol which we all understand".
After the Pope left to conduct a mass at the the Barthelemy Boganda stadium, crowds chanted "War is over" in Sango, the local language, as Muslim vigilantes wore T-shirts bearing the Pontiff's image.
What is PK5?
PK5, also known as "Kilometre 5" was a traditional and diverse Muslim neighbourhood in Bangui before the violence.
Between 122,000 and 124,000 people lived there but when the Seleka alliance of rebels took Bangui in March 2013, they made PK5 a second base: a lot of fighters set themselves up there, which started creating animosity in Bangui towards Muslims.
They are now less than 15,000 people living in PK5 – described as the "fault line of the bloody sectarian violence gripping Bangui".