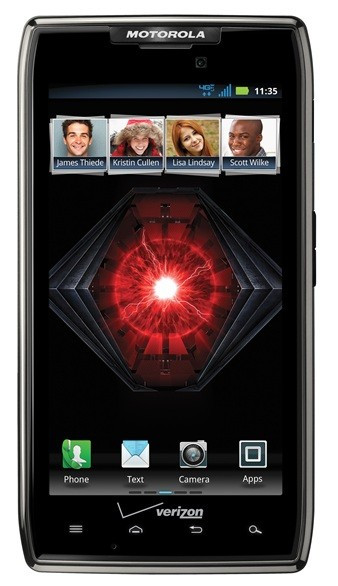 Motorola has announced the Droid Razr Maxx, a smartphone with twice the battery life of the iPhone 4S, at the Consumer Electronics Show in Las Vegas.
The Droid Razr Maxx will be available in the first quarter of 2012 for $399 and promises a very impressive 21-hour battery life - double that of Apple's iPhone 4S - but as it runs on Verizon's LTE network, the Maxx will not be available in the UK.
Other than the massive 3,300 mAh battery - which does add some thickness to the phone - the Razr Maxx offers the same 1.2GHz dual-core processor, 4.3-inch display, 8-megapixel camera and 32GB of internal storage as the standard Razr.
Running on Android Gingerbread 2.3, but soon to be updated to 4.0 Ice Cream Sandwich, the Razr Maxx will be Motorola's flagship smartphone when it goes on sale, but the company is keen to point out that it is not intended to replace the regular Razr, which was launched in late 2011.
While the Razr Maxx may suffer from increased battery drain over 4G, Jeff Hadden, senior product marketing manager at Motorola, is confident that the phone can stream six hours of video over a 4G connection.
Available in black, white and purple, Motorola says that the Razr Maxx is aimed at business or power users who want the ultra-thin design of the regular Razr, but with the extra battery life to get them through a busy day on one charge.
The Droid Razr Maxx was announced during Intel's keynote speech at CES, where it was revealed that the chip manufacturer would be joining Motorola in a new partnership, described as "a multi-year, multi-device strategic relationship that includes smartphones with Motorola will begin shipping later this year using Intel Atom processors and the Android platform."
Motorola said in a press release: "The collaboration, which also covers tablets, will combine Intel's leadership in silicon processor technology and computing innovation with Motorola's mobile device design expertise to deliver products that have the high performance, long battery life and convenience necessary for increasingly mobile lifestyles."