LG will showcase a new range of audio products that incorporate emerging technologies to maximise synergy with its premium TVs at CES 2017. The company said that its latest audio devices include sound bars and speakers.
To start with, the new LG SJ9 sound bar features the Dolby Atoms technology to deliver a cinema audio experience. It packs multiple cutting-edge speakers including two up firing speakers. The Dolby Atoms moving audio can be placed anywhere in three-dimensional space for better sound quality.
Additionally, its Sound Upconverting feature increases the quality of standard audio files to 24bit/192Hz to enhance minute details of each track. It also supports 4K Pass-Through to deliver sound without compromising image quality.
The company is also unveiling the SJ8 sound bar, which is just 38mm in width. The sound bar integrates with LG's new range of 2017 TV models. Consumers can integrate the SJ8 with certain LG TV sets by replacing the original stand. It packs similar feature as the SJ9.
LG's audio lineup includes the SJ7 sound bar that can be positioned horizontally or vertically.
Apart from this, the company's Loudr CJ98 sound system featuring powerful audio capabilities is also part of the launch. The speaker can generate 3,500W of sound and bundles an array of controls, looping buttons and sharing features.
LG has another all-in-one speaker system, Loudr OJ98, which is designed especially for DJs.
The company is also launching a portable party audio system model FJ7, which has handles and wheels making it convenient to carry.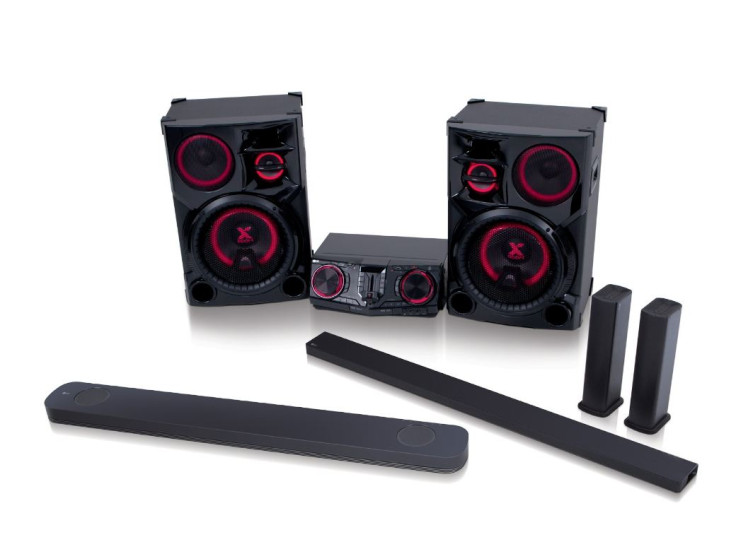 "LG's exciting 2017 audio lineup features powerful sound capabilities and sophisticated designs for all consumers, from audiophiles demanding absolute sound fidelity to more casual listeners," Brian Kwon, president and chief executive officer of LG's Home Entertainment company, said in a statement on 3 January.
"The stunning new audio products on display at CES this year demonstrate LG's commitment to offering a diverse range of audio products that are perfect for any place and any occasion," added Kwon.