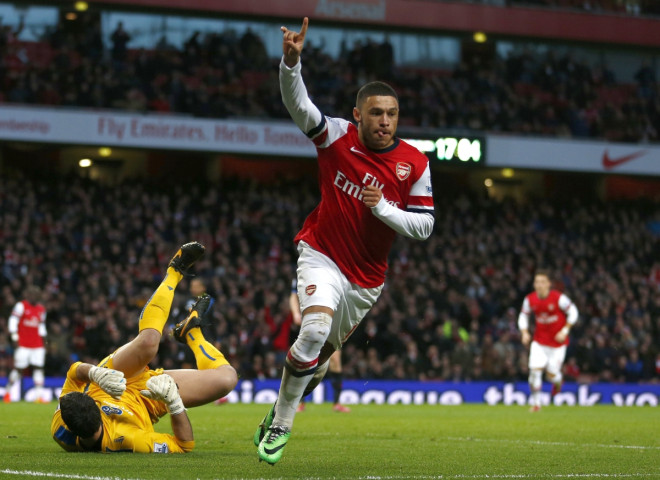 Arsenal midfielder Alex Oxlade-Chamberlain believes that the Gunners need to win the FA Cup, which will act as a springboard to future success.
The Gunners have spent nine years without a trophy and have been criticised heavily for their failure to end their winless streak. This year marks a good opportunity for Arsenal to take some experience to the title race next year.
The Gunners will face Wigan in the semi-finals at Wembley on Saturday where a win will be absolutely crucial to their chances of ending their season on a high.
The north London club led the table for major parts of this season but capitulated in the business end when they lost heavily to the likes of Liverpool and Chelsea, thus having to give up claims for their 14th league title and the fourth under Arsene Wenger.
The manager had to bear the brunt of the blame for Arsenal's failure to win silverware, in spite of the Frenchman insisting that they have done well over the past few years after transferring to the Emirates.
Arsenal have never finished outside the top four under Wenger but Chamberlain insists that they need to win the FA Cup to instil a winning mentality in the players, which can otherwise go missing in the long run.
"Once you do get that experience of winning the first one, you automatically build confidence that you can go on and do that again and again and again. That experience is vital," Chamberlain told www.arsenal.com.
"The squad needs that, definitely. I always hear commentators talking about squads that have been around and have won things. They always mention the experience of winning, and knowing what it takes to win. They've only got that through winning trophies, and winning competitions.
"That is definitely something that will help this team to go on and push forward and be successful in the future. But it is just getting to that first one. It is a lot easier said than done. We are in a position now where we can make that happen, we are in a position where it is our responsibility to take that opportunity," he added.