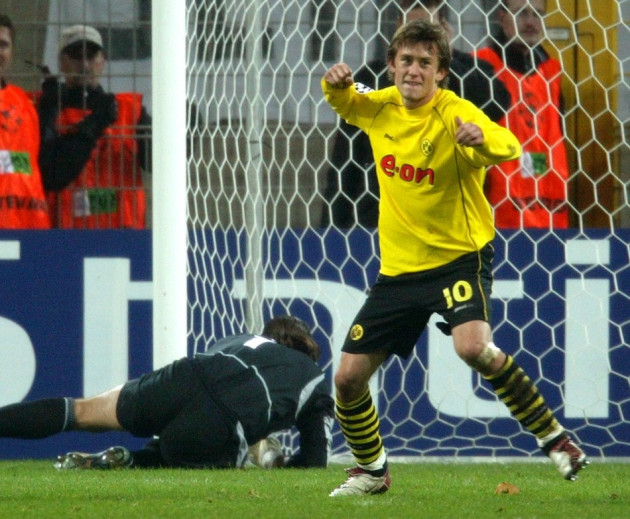 Arsenal may enter Tuesdays clash with Borussia Dortmund in exquisite form but 11 years ago it was a very different story against a side that included two of their future players.
Having already recorded a 2-0 win over the defending German champions in the reverse fixture, Arsenal travelled to Dortmund plagued by a drastic turn of fortunes that had seen them suffer three consecutive defeats.
A loss at Goodison Park followed by consecutive defeats at Highbury to AJ Auxerre and Blackburn Rovers marked a miserable run for Arsene Wenger and his side and it was a youthful Thomas Rosicky in the black and yellow of Dortmund who inflicted more despair by scoring what turned out to be the game's winner, confining the Gunners to a fourth successive loss, their worst run in 19 years.
The Gunners had already been given an early warning on that Wednesday night in October when Lars Ricken, scorer of Dortmund's Champions League winning goal against Juventus five years prior to this encounter, struck the cross bar over the head of the grateful David Seaman.
Thierry Henry gave Arsenal early hope of ending their wretched run that so staggeringly contrasts with the form of the current crop, curling a free kick over the Dortmund wall and past Jens Lehmann when Freddie Ljungberg was felled 20 yards from goal.
The Frenchman's opener frustrated the Germans, but they could fashion little to remedy the deficit despite enjoying the majority of possession. Matthias Sammer's side needed a large slice of luck to get back on even terms, and they received that after the imposing frame of Jan Koller won a free kick, to which a 22-year-old Thomas Rosicky assumed responsibility for.
While most Arsenal fans will fondly remember has sumptuous strike against the USA in the 2006 World Cup as their first memory of the Czech international, this effort against his future employers needed a fortuitous nick off the head of Gilberto Silva in the Arsenal wall to evade Seaman and restore parity.
As the second half progressed, Sylvain Wiltord and Robert Pires, who was making his first start in seven months for the Gunners, haphazardly tried to restore an away advantage, but just as it seemed the spoils would be shared, the awkward yet effective Koller broke through on goal before being taken down by Seaman.
Four years prior to arriving at the newly-opened Emirates Stadium, Rosicky was on hand to deliver a blow to Arsenal's hopes of escaping the first phase of the Champions League group stage when he confidently scored from the spot, handing the home side a 2-1 victory with less than half an hour of the tie remaining.
Fortunately for Wenger, PSV Eindhoven handed the Gunners a route to the next group phase as group runners up after beating Auxerre in their game.
Despite a win away to Roma, four draws in a group also containing Ajax and Valencia halted Arsenal's progression, while Dortmund where squeezed out by eventual winners Milan and Real Madrid at the same stage.
Starting XI's on that night:
Borussia Dortmund: Jens Lehmann, Evanilson, Christian Worns, Christoph Metzelder, Dede, Sebastian Khel, Torsten Frings, Thomas Rosicky, Lars Ricken, Ewerthon, Jan Koller
Arsenal: David Seaman, Lauren, Sol Campbell, Pascal Cygan, Ashley Cole, Sylvain Wiltord, Gilberto Silva, Patrick Vieira, Robert Pires, Freddy Ljungberg, Thierry Henry