Charles Manson to Marry: What We Know About Mass Murderer's Girlfriend 'Star' Afton Elaine Burton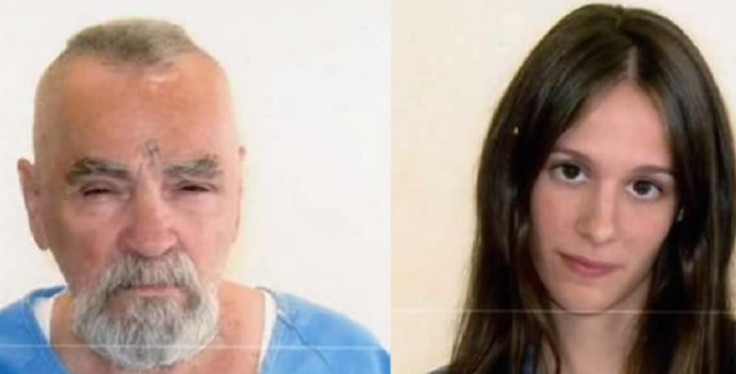 American murderer Charles Manson plans to marry a 26-year-old woman who has spent nearly a decade trying to exonerate him.
The marriage licence, obtained by the Associated Press, was issued on 7 November for Manson to marry Afton Elaine Burton, who left her home in the Midwest nine years ago to be near the man responsibly for the murder of seven people, including pregnant actress Sharon Tate.
Manson, the 80-year-old former-cult leader behind one of the most notorious killing sprees of the 20th century, is incarcerated at California State Prison, Corcoran. He is not eligible for parole until 2027.
The licence does not specify a wedding date and states the couple must marry within 90 days, or they will have to reapply. California Department of Corrections spokeswoman Terry Thornton confirmed to the AP that the licence had been transmitted to the prison.
Burton, also known as "Star", told the AP that she and Manson will be married in December. A wedding coordinator has reportedly been assigned by the prison to deal with the nuptials.
"Y'all can know that it's true," she said. "It's going to happen."
"I love him," she added. "I'm with him. There's all kinds of things."
Next of kin
Burton has several websites which advocate Manson's innocence. She has said marrying him would allow her access to information only available for relatives.
"There's certain things next of kin can do," she told the AP.
Manson is not allowed conjugal visits, but the pair are allowed to invite someone to officiate the ceremony and up to 10 outside guests may attend.
Relationship
Manson and Burton got in touch when she was 17 years old. She contacted Manson after a friend showed her his writings on the environment, Rolling Stone reported in 2013.
Reportedly, Burton has been visiting Manson in prison on Saturdays and Sundays since 2007. The website MansonDirect.com has published numerous photos of Burton and Manson taken in 2013.
Family relationship
Burton has previously said she has a "positive relationship" with her parents. She is from a devout Baptist family and keeps in touch with them on a regular basis, but her father has allegedly said Manson is not welcome in the family home.
In a previous interview with the Daily Mail, she stated: "I was forcefully excommunicated from my friends for a long period of time in my teen years. I couldn't have any contact at all with any of them. It had a big effect on my life."
Susan Atkins
Commentators have noted the physical similarities between Burton and Susan Atkins, a former follower of Manson who died of cancer behind bars in 2009.
Known as "Sexy Sadie," Atkins was convicted of participating in eight of the Manson family murders, including the notorious Tate/LaBianca murders in 1969.
© Copyright IBTimes 2023. All rights reserved.