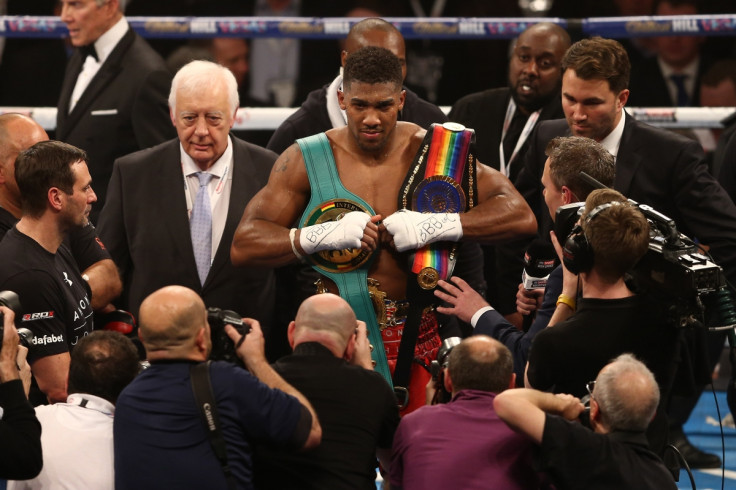 Anthony Joshua is ready to be catapulted into the big time should he claim the IBF world heavyweight title from American Charles Martin, according to former champion David Haye. Joshua faces his first shot at a global crown against Martin at the 02 Arena in London on 9 April, following an electric start to his professional career.
Victory over Dillian Whyte saw Joshua claim his 15th knock-out win in as many fights and led to being paired with Martin, who defends the IBF title he won against Vyacheslav Glazkov for the first time in the English capital. Joshua's rise to the summit of the heavyweight division has been as rapid as it has been destructive, but Haye believes the Olympic champion from London 2012 is ready for the scrutiny over his every move.
"Other than scandal I believe putting in good performances and getting the British public behind you [gets you on the front pages]," said Haye. "He's got that, he's got the hardened sports fans. The Olympics got the masses following him.
"Obviously he's got his fights on pay-per-view, which narrows things. Only 500,000 people watched his last fight, but they got their money's worth. Hopefully he can double that number for this next fight and just keep moving forward."
After 14 successive emphatic knock-outs, Joshua was taken to the seventh round by Whyte last December and was regularly troubled by the Jamaican-born fighter, before securing another W via a stoppage. Haye believes the manner of the victory over Whyte will make Joshua primed for the challenge of the unbeaten southpaw.
"He had a bit of a tussle in his last fight, someone fought back for the first time and he seemed a bit shocked by that," the former WBA heavyweight champion added. "But he's learned that lesson. It definitely helps him going into this fight.
"If that hadn't happened and this big southpaw hits him on the chin, and it's for a world title, you don't know how someone is going to react. You know how he reacts now, he sucks it in, he regroups and comes back and I think someone like Charles Martin who is big, the same size as Anthony Joshua and he can punch. It is not the ideal opponent for Joshua.
"If there was an option to have three or four more fights and get a little a bit more world level experience, Anthony would have taken that option but occasionally in life things spring up. When the opportunity comes to fight for the heavyweight title comes along, whether you are in the perfect condition or not you have to take it sometimes and he has made the right choice in my opinion."