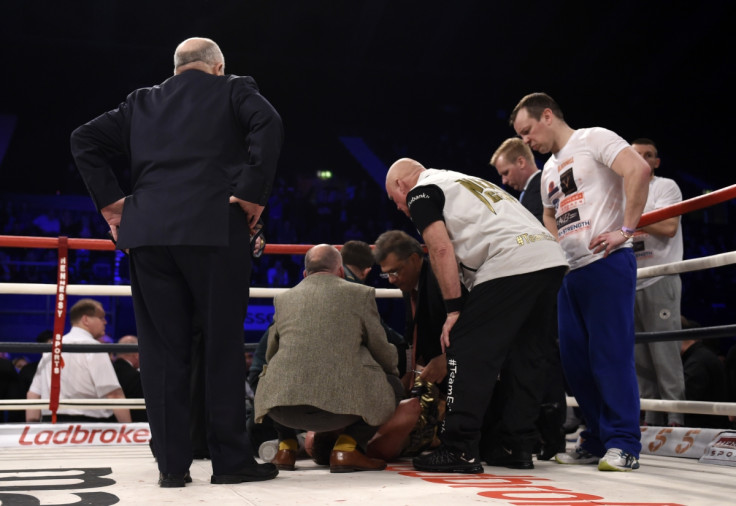 Chris Eubank Jr has appeared alongside his father at their first press conference held since the fight against Nick Blackwell on 26 March. The 26-year-old claimed the British middleweight title with a typically confident stoppage at Wembley Arena, but there has since been huge concern for his opponent after he collapsed and had to be stretchered out of the ring.
The determined Blackwell absorbed a number of heavy shots during an encounter that was eventually halted by referee Victor Loughlin in round 10 after the doctor inspected the swelling over his left eye. The Trowbridge fighter was subsequently found to be suffering from a small bleed on the brain and was given oxygen before being placed in a medically induced coma at St Mary's Hospital in Paddington.
"When I heard the news, it was tough to hear," Eubank Jr, whose team will hold no celebrations until after Blackwell has made a full recovery, was quoted as saying by The Mirror. "No fighter goes in there to cause that type of damage to an opponent. There's nothing personal. Things may be said in the lead up to the fight, two men going in there, putting their pride on the line. It was upsetting and the first thing I had [to do] when I heard was to say on Twitter that he is a true warrior and to wish him a speedy recovery. You play rugby, football and cricket, but you don't play boxing."
When asked if he had thought about quitting the sport in the aftermath of the Blackwell fight, he added: "Not all all, this is boxing. As fighters, we know the risks. We know that we are risking our health every time we stop in the line. But it's a risk we're willing to take because with that risk comes great reward. I will continue my career. I have the British belt and now I want to go for a world title."
In the days after the fight, Eubank Snr has been widely praised for appearing to instruct his son to stop targeting Blackwell's head at the end of round eight. Certain boxing figures have since cast doubt on the meaning of those words, although the eccentric former WBO middleweight and super-middleweight world champion insists that he was trying to protect him.
"Even in sparring, I tell Junior to stay away from the head because his punching is fast, powerful and dangerous," he said. "So most certainly I was saying this to protect the fighter. He had the fight won. This is a dangerous sport and we are real."
Eubank Snr was involved in a similarly unfortunate incident back in September 1991, when a brutal title fight against British rival Michael Watson at White Hart Lane saw the latter suffer a near-fatal blood clot on the brain that left him in a coma, required five operations and saw him confined to a wheelchair for six years. The British Boxing Board of Control (BBBC) have implemented a number of improved safety measures since that awful night, which Eubank Snr claimed to be "very supportive" of and said that such measures have allowed many fighters with similar injuries to lead normal lives.
Eubank Jr also admitted that he took his effort down a notch in the final round against Blackwell and does not believe that more safety changes need to be made. BBBC general secretary Robert Smith has defended Loughlin's decision not to stop the fight earlier.