Charlotte Church will write to victims of Tory conference 'attacks' in peaceful protest gesture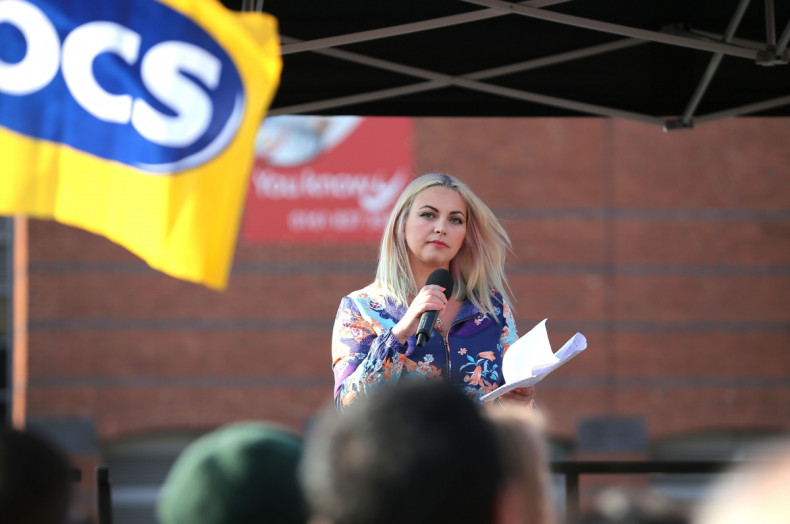 Singer turned activist Charlotte Church has promised to pen an open letter to the victims of alleged assaults during anti-austerity demonstrations at the Conservative Party conference in Manchester. The Welsh celebrity said she was compelled to make the move in a bid to represent peaceful protesters.
"I plan to write an open letter on behalf of the majority of people who were protesting that day just to say: 'We're really sorry, this isn't what it's about' – just to represent the rest of the people who were there, who would never act like that," she told reporters.
The gesture comes after a number of journalists were allegedly spat on and verbally threatened as thousands of activists demonstrated against government cuts to the public sector and protested the Conservatives' Trades Union Bill, which would introduce a minimum strike ballot threshold of 50%.
Journalist Owen Bennett was allegedly spat on while he was covering the demonstration on 4 October and a man was arrested in connection with the incident. Kate McCann, a reporter from another publication, reportedly had to be escorted by police officers alongside Bennett for their own safety. Meanwhile, Michael Crick, a well-known broadcaster, posted a picture to his followers on Twitter that appears to show spit on the back of his hair.
Anarchists shout "Tory scum" at us as we enter Conservative conference, and I was spat at pic.twitter.com/VrjIbaRapv

— Michael Crick (@MichaelLCrick) October 4, 2015
Frances O'Grady, the general secretary of the Trades Union Congress (TUC) which helped organise the demonstrations, described the alleged assaults as "inexcusable" and stressed that journalists "must be allowed to do their jobs". Labour leader Jeremy Corbyn apparently strongly agreed with O'Grady's comments, according to a spokesperson for the left-winger.
'Protest Rave' stopped
Elsewhere, Greater Manchester Police said it had to shut down an illegal "Protest Rave", which had been running for more than two days in the city centre. The officers made the move after receiving a "significant number" of complaints from residents, businesses and city councillors.
"We have once again found ourselves in a situation which requires the need to balance a number of considerations," said John O'Hare, a GMP chief superintendent. "Throughout the last two days, officers have tried to reason with the organisers to find a middle ground which would enable their protest to continue without causing such unreasonable disruption to the wider community.
"Unfortunately they have shown little regard for others, refused to turn the music down to reasonable levels and as a result have made life very uncomfortable for residents and businesses."
He added: "GMP will always try to allow people to exercise their right to peaceful protest, and indeed we will see tens of thousands of people travel to the city today to do just that. This week we have the responsibility to protect democracy in this country.
"I can understand people have been frustrated that this protest has been allowed to continue for as long as it has, but there were a number of factors which we had to take into account as we continue to manage an incredibly complex security operation."