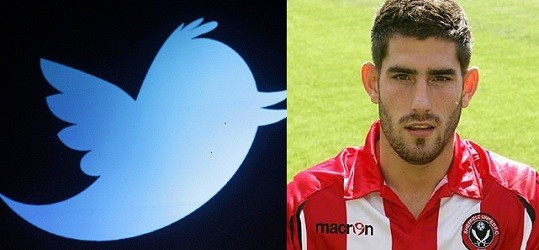 A young woman raped by football star Ched Evans has been given a new identity after internet trolls exposed her on the web.
North Wales Police spent £5,000 giving the 19-year-old new personal details and providing her with the means to begin a new life away from the area.
It came after she was outed by users on Twitter and Facebook. Threats were also issued amid more than 6,000 tweets about the trial of Evans.
Det Ch Insp Steve Williams, of North Wales Police, told IBTimes UK: "The victim in this case has undergone a traumatic experience, not only the rape but the subsequent naming of her on social media sites.
"In order to bring her life back to some normality she has been offered a support package and has moved away from the area."
Evans, 23, was a Sheffield United player prior to being jailed. His goals fired the Blades' promotion push, which faltered after he faced justice for raping the teenage girl in a Rhyl hotel room.
Many web trolls were angry at the impact on the team of Evans' absence. Nine people pleaded guilty under the Sexual Offences Act last month.
Among them was Evans' cousin Gemma Thomas, who branded the victim a "a money-grabbing slut."
Thomas, 18, was convicted at Caernarfon Crown Court and ordered to pay the victim £624 compensation.
Thomas claimed she resented doing this because she remained convinced Evans was innocent.
""I understand it's against the law and I wouldn't have minded having a big fine because I understand what I did was wrong, but it's the fact that it's compensation and it's just ... I don't know, it's hard thinking that I have got to pay compensation, knowing that I know my cousin is innocent," Thomas told the BBC.
Thomas said she regretted sending poison tweets because it could discourage rape victims from coming forward out of fear of reprisals.
A spokesman for Welsh Women's Aid told IBTimes the episode was "very sad."
"We understand that the rape victim in the Ched Evans case has gone through a significant change in her circumstances to improve her safety and to ensure that, following the callous and illegal circulation of her name on Twitter, she now has the anonymity that the law affords to all rape victims.
"It's very sad that she is the one that has to uproot her life, given that she is the victim in this situation; while this is a rape case, this is something we see all too often with domestic abuse cases too, in which the woman is usually the one who has to up and leave in order to be safe and rebuild her life.
"We hope that the measures put in place by North Wales Police help her to feel safer and to get on with her life as normally as possible following this horrible ordeal."