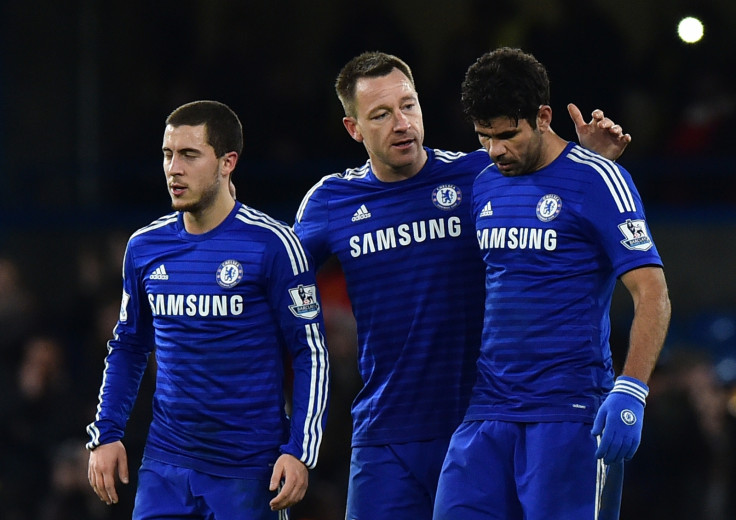 Chelsea captain John Terry has pointed out the Blues played "exciting football" earlier this season but Jose Mourinho was forced to change that approach during the second part of the campaign because the rivals learnt how to stop their passing game.
The Premier League champions had an impressive start to the campaign, winning eight of the first 10 domestic league games while scoring 26 goals in the process.
Following a 2-0 victory over West Bromwich Albion in November, Cesc Fabregas assured he did not remember "enjoying" his football as much as he did at Stamford Bridge, having previously played in Pep Guardiola's Barcelona dream team and the Spain squad that won the World Cup and two European Championships.
"I don't think I am exaggerating if I don't remember playing and enjoying a football match as much as I did personally in the first half," Fabregas then said.
However the Blues became more pragmatic during the second part of the campaign to clinch the title, with some rivals accusing Mourinho of boring football.
Terry has respond to the critics while praising Mourinho for leading Chelsea to another Premier League title.
"The way we were playing football earlier in the season, after one game Cesc [Fabregas] came away saying it was the best football he has played in, and he has been at Barcelona, and for him to say that, everyone listened," the captain said to Chelsea official website.
"We played some really exciting football but teams learn, they make it difficult and it is down to the manager to find a way, and he always does.
"From two days before every game we work on ways to break sides down and get behind them. He has ideas and spends just the right length of time on them. He goes into so much detail."
Terry has been one of the main beneficiaries of Mourinho's return to the west London club. Having being a crucial part of the Portuguese boss's set up during his first tenure at Chelsea, the captain's future at Stamford Bridge looked uncertain in summer 2013 after falling out of favour of then manager Rafa Benitez.
But Terry has regained his leading role at the Blues back line under Mourinho, starting all 35 games of the campaign while becoming arguably the best centre-back in the Premier League this season.
Terry said: "[Mourinho] gives you the best opportunity as a player to go into the game fully prepared. You know if you don't play well it is your fault, it's the player's responsibility because he leaves no stone unturned.
"He has a great group of players as well and they and the manager deserves respect for the way we have played this year."