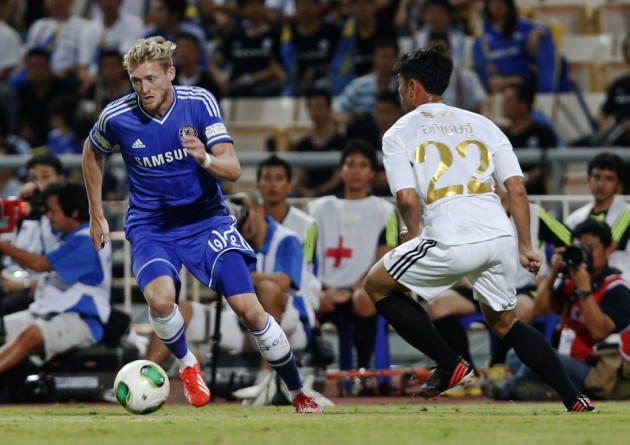 Andre Schurrle was convinced to join Chelsea after multiple conversations with ex-Blues midfielder and German international Michael Ballack, 22 year old admits.

Despite Bayer Leverkusen offering Champions League football next year, Schurrle made it clear from the end of last season that his ambition was to make the move to Stamford Bridge.
After Leverkusen found a replacement for the attacking forward in the form of Son Heung Min, they allowed Schurrle to go to Chelsea, and he says that one of the reasons he pushed so hard for a move was Ballack's gleaming reference of life in English football.
"We talked a lot about Chelsea," Schurrle told FIFA.com. "He's a good friend of mine and he always said to me, 'If you have this opportunity, you have to do this. It's a big club but like a family inside.'
"That's what I've found here. It's really nice, really good people, really good team. I feel like I'm almost two years here. I'm very happy here at Chelsea."
For Schurrle, the move to Chelsea was a long drawn-out one, with the 22 year old forced to stay in Germany last summer and when a deal to sign Kevin de Bruyne fell through it appeared the player was set for another season in his homeland.
And though he admits to being frustrated, he is thankful to Leverkusen side for helping to finally confirm the move to a dream club.
"It was hard for me last summer that I didn't come here, but I wanted to be a professional, I wanted to do my best for Leverkusen," Schurrle explained. "That's what I did.
"I'm really happy, I'm really looking forward to being a Chelsea player for the next years. I'm really happy now here and I really want to thank Leverkusen for making it happen."
Though Schurrle was a target for Chelsea long before Jose Mourinho returned to west London, he now looks to be firmly in the manager's plans and has said he's looking forward to working alongside the 'Happy One' in preparation for the campaign ahead.