Rafa Benitez may not have won over the Chelsea supporters but it seems he at least has the backing of his players after Juan Mata praised the performance of the Spanish manager.
The mercurial midfielder has enjoyed a particularly fruitful season with Chelsea and is hoping to finish on a high by helping the club secure third place in the league and triumph in the Europa League.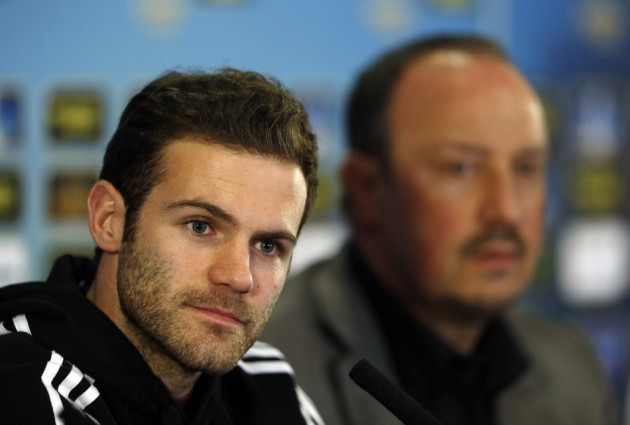 Chelsea do have a difficult run of games in the Premier League but they are well placed to secure an automatic place in next season's Champions League, while they are favourites to advance to the final of the Europa League after defeating FC Basel 2-1 in Switzerland.
However, Benitez still remains an unpopular figure for the fans, but Mata believes any success Chelsea have this season will be down to the management of the former Liverpool boss.
"For me and all the players, Rafa is a great manager," said Mata, as quoted in The Sun. "It's not as if I'm just discovering him now because he's done great things at every club he's been at.
"Since he came to Chelsea he has always tried to do his best for the team and now we are near the end of the season with the chance to win a trophy and finish third in the league.
"So maybe this will still be a great season for Chelsea. And if it is, it will because of the job Rafa has done."
Even if Chelsea secure the perfect end to the season it seems Benitez will leave the club and another manager will arrive in the summer.
Despite plenty of speculation as to who will take over from Benitez in the summer, Mata says the players are simply getting on with the task of winning their remaining games and making it another success season.
"In two years at Chelsea I have played for three different managers but as players it's not our business who is in charge," added Mata.
"Chelsea are a club who are always at the top level, where you are expected to perform and win trophies no matter who the manager is. We are all working really well with Rafa - and that is the truth.
"But we have so many important games still to come this season that we just have to focus on winning this very important trophy. Every time I've watched a Champions League game this year I think it's a shame we went out in the group stage.
"But now we have the chance to win another big European trophy and suddenly we are only one small step away from reaching the final.
"Our aim this season has to be to win the Europa League and to be in the Champions League next season, which is where this club deserves to be. And if we all stay together and keep playing like we have, then I think we can achieve both of our aims."