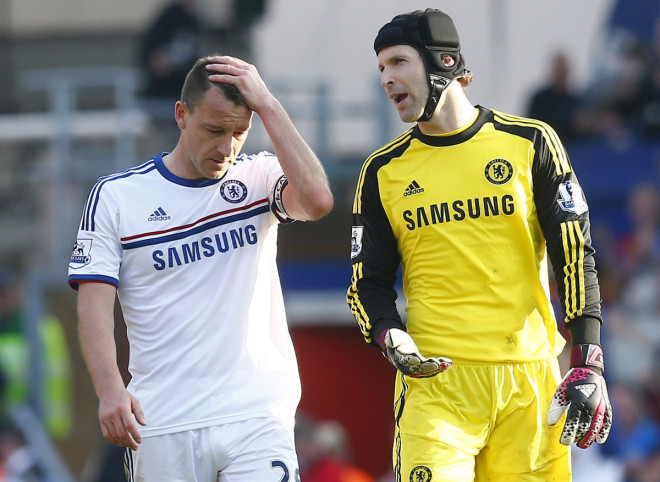 Chelsea suffer double injury blow ahead of their crucial Premier League fixture against Liverpool on Sunday, manager Jose Mourinho has confirmed.
The Portuguese tactician will be without the services of Petr Cech and Captain John Terry at Anfield. The duo were injured during the goalless draw against Atletico Madrid in the Champions League semi-final first leg fixture on 22 April.
The Czech Republic international is out for the rest of the season after he fell to the ground and injured his shoulder following a collision with Raul Garcia in the 17th minute while Terry was forced off with an ankle injury in the 73rd minute.
The former Real Madrid manager hinted that he might have to reshuffle his starting XI against Liverpool for Chelsea to stand a chance of progressing into the final of the European competition.
"Petr Cech's season is over. Don't ask me to explain it technically, but it's over. With John, we'll have to play in the final for him to play with us again," Mourinho explained.
"I can't decide by myself [who to play against Liverpool], that's a decision where I have to listen to the club. I'm just a piece, the manager and no more than that."
Mourinho was also critical of the Premier League authorities' decision to schedule the game against the Reds on Sunday without considering their return leg against Diego Simeone's side at Stamford Bridge on 30 April.
"The fact the match [against Liverpool] is on Sunday puts the problem not in my hands, but the hands of the people who decide the game should be played on Sunday, not Saturday or Friday," Mourinho stressed.
"We represent English football, we are the only English team in Europe. Spain has four teams and gives them all the conditions to have success," the 51-year-old concluded.
Chelsea were without Samuel Eto'o and Eden Hazard for the first leg clash at the Vicente Calderon.
The Cameroonian international remained in London due to a minor irritation in his knee.
The Belgium international has missed the Blues' last three competitive fixtures with a calf injury. The 23-year-old travelled with the squad to Spain but was not deemed fit enough to make the bench.
In the league table, Mourinho's side currently sit second with 75 points after playing 35 matches, five points behind leaders Liverpool. Their chances of winning the league this season could mathematically end if they lose to Brendan Rodgers' side on Sunday.