Five Chelsea football fans suspected of involvement in what appeared to be a racist incident on the Paris Metro have appeared at Waltham Forest Magistrates' Court to oppose the implementation of banning orders.
The five men - William Simpson, 26, of Ashford, Surrey; Richard Barklie, 50, of Carrickfergus, Northern Ireland; Dean Callis, 32, of Islington, London; Josh Parsons, 20, of Dorking, Surrey; and Jordan Munday, 20, of Sidcup, south-east London - appeared to be involved in the incident in February (2015).
A black commuter, Sylla Souleymane, was filmed attempting to board a packed carriage, but was roughly pushed away by Chelsea fans who were then seen singing: "We're racist, we're racist and that's the way we like it."
The court will use video footage during the case and hear from 33-year-old father of three Mr Souleymane, who says the incident has ruined his life, leaving him depressed and unable to work or use public transport.
However, at least one of the men has denied being a racist or participating in racist chanting.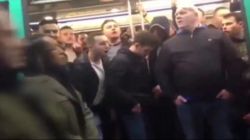 Mr Barklie, of Northern Ireland, a director of the World Human Rights Forum who has worked with victims of the Troubles and is an ex-RUC and PSNI officer, told Ireland's Sunday World: "People behind me were pushing and he was pushed back off. He never attempted to see if there was more room in any of the other carriages.
"He was pushed off simply because the carriage was full, no other reason - it had nothing to do with the colour of his skin."
The Metropolitan Police want the five men to be subject to a football banning order, which would prevent them attending live football matches home or away for three to five years - a severe restrictions to civil liberties according to District Judge Mary Connolly.
The five men all attended the packed court wearing suits. In a statement read outside the court, lawyers on behalf of Mr Munday said: "He adamantly denies being involved in any racist chanting and there is no evidence that he was.
"We question why the Metropolitan Police Service has chosen to become involved in an incident which occurred in another European country, and only after the football fans have returned to the UK, particularly in view of the fact we are aware that football officers from the Metropolitan Police Service were on the Metro train in question.
"Mr Munday now faces a football banning order application which he intends to contest. The effects of a civil football banning order are very draconian."
The case was adjourned until 5 June. The full hearing is expected to take place in July.