One of the Chelsea fans at the centre of the Paris metro racism storm is reportedly a "vocal" supporter of Ukip and even posed for a picture with Nigel Farage.
Josh Parsons, 21, is reported to be among the group of Chelsea fans who were filmed stopping a black man from getting the carriage before chanting: "We're racist, we're racist and that's the way we like it."
The footage, obtained by the Guardian, was filmed at Richelieu-Drouot station ahead of Chelsea's Champions league match against PSG.
Parsons, a former public schoolboy, has been named by friends and on social media as being among the group seen in the footage. It is unclear whether he was involved in the chanting.
A former classmate of Parsons at the Millfield private school in Somerset, who did not want to be named, has now said he and his brothers were part of a small but "vocal" group of Ukip supporters.
A photograph of Parsons standing next to Farage at a pub has since emerged, with the caption "UKIP BOYS! What a geezer".
The former classmate told the Guardian: "They were ... only about four or five people but they made themselves heard. They were never aggressive, they were never forcing it down your throat.
"But you were left with no illusions looking at their social media that they were: a) Chelsea fans and b) Ukip supporters."
Ukip confirmed the photograph is genuine, but said neither Parsons or his brothers are members of the party.
A spokesperson added: "Mr Farage is photographed with and by dozens of people, both by supporters and opponents on a daily basis.
"Ukip and Mr Farage find the behaviour of the suspected Chelsea fans on the Paris Métro to be disgraceful, and shames both the country and Chelsea football club.
"We are delighted that the identities of these people are being revealed, and that they will face the full force of the law."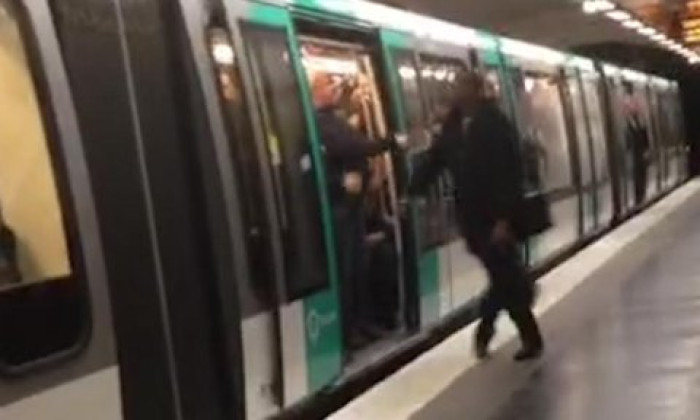 Parson's family have described the 21-year-old as a "lovely, gentle boy".
His aunt Louise told the Evening Standard: "He is a lovely boy and has never been in any trouble. He is a lifelong Chelsea fan and that has never been a problem. I have seen the footage but have not yet spoken to him. "We do not know what to make of it but it is a shock to the family. He is a lovely gentle boy who would not hurt anyone."
Elsewhere, the black man seen pushed off the Metro is calling for the group of Chelsea fans to be "found, punished and be locked up".
The man, named only as Souleymane S , told French newspaper Le Parisian: "I didn't know that I was filmed. The fact that it is being talked about has given me the courage to go and make a complaint to the police.
"These people, these English supporters ought to be found, punished and ought to be locked up. What happened should not go unpunished."
Metropolitan Police said they are taking the matter "very seriously".
A spokesperson added: "We will examine the footage with a view to seeing if we can apply for football banning orders, preventing people from travelling to future matches."