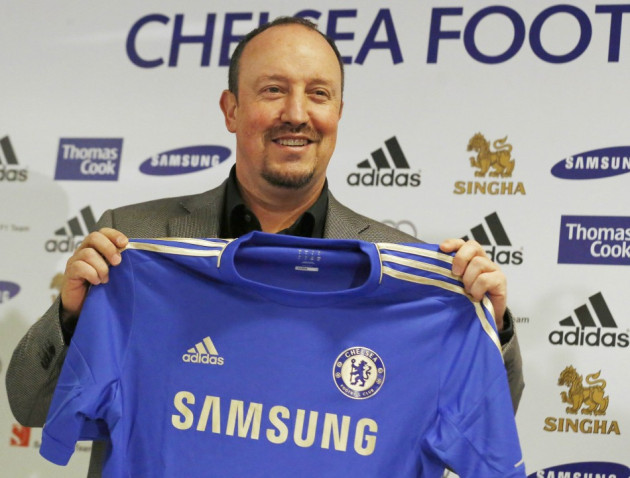 1751: We have another 0-0 after Liverpool were held by Swansea earlier today but this was a truly poor game. Neither keeper was really tested and there was a real lack of genuine chances. Torres once again struggled and it seems more and more likely that they will use the January transfer window to bring someone else in. Benitez will be pleased to get his first point as Chelsea manager and it will be interesting to see if he begins to make some changes. For City, it was a poor display and Roberto Mancini will be annoyed at a lack of creativity as they struggled to penetrate the Blues defence. Well that is the end of our coverage and let's hope next time we get some more goals.
1749: With the game about to end we have a talking point as Balotelli is booked for diving. Seriously that is a talking point as this game has been that poor. Thankfully the final whistle goes and brings to an end a poor game. Still, it is a good point for Chelsea against the champions and a clean sheet. A couple of positives for the Spaniard.
1747: Tevez and Silva combine on the left and City get themselves a corner with just two minutes remaiing and it's a chance for Nestasic but his header is straight at Petr Cech.
1745: Fernando Torres is still working hard but he is struggling to create a chance for himself. Just a short distance away in north London there is a goal for another struggling striker as Andy Carroll scores his first of the season, unfortunately it came with West Ham 3-0 down to Tottenham.
1742: Moses powers forward and gets to the edge of the box before squaring a ball into the path of Ashley Cole who smashed it goalwards and it's a decent save from Joe Hart. The referee's don't see it that way and it's a goal kick and Balotelli comes on for Aguero.
1739: Chelsea have a nice position for a free kick around 40 yards out on the right but it is easily cleared and it seems Mario Balotelli will soon be coming on. Perhaps he can be the spark that finally brings a goal.
1737: Once again it's good work from Milner on the right as he beats two before trying to sneak his shot through the legs of Cech but the keeper manages to stand firm and now we have just 10 minutes remaining.
1736: Tevez has his first attempt after a deep cross from Milner finds the forward at the back post. His control is impressive but his shot is not as it balloons over the bar. We then have another sub as Mikel makes way for Oriel Romeu who didn't get a look in under Di Matteo.
1733: Only fifteen minutes remaining and I wonder if we will even see a keeper properly tested. Perhaps there will be some late drama but it certainly doesn't look likely.
1731: There is still a lack of any clear cut chances at the Bridge as Oscar is hounded out on the edge of the box as he looks to find a decisive pass. City have bossed possession in the second half and Tevez attempts an outrageous shot as he hits a stinging shot from out side which Cech has to turn round for a corner.
1727: Now we have the first change for Chelsea as Eden Hazard departs and is replaced by Victor Moses. It will be interesting to see if he can get a bit closer to Torres and provide some support.
1725: It seems it's time for Carlos Tevez as he comes on for Edin Dzeko who didn't really have a chance today.
1721: That's a barn storming run from Ivanovic who runs fully 60 yards with the ball before being brought down by Pablo Zabaleta and the right back picks up a yellow card hiw his challenge.
1718: TORRES screams Martin Tyler as the ball lands at his feet just inside the area and he lashes at the ball with his left foot and find a perfect connection, unfortunately for the Spaniard he hits it too well and it flies just over the Joe Hart's bar.
1715: Now it's a chance for City after Torres thought he was away but he was deemed to have hand balled it past the defender and City took a quick free kick which ended up at the feet of Yaya Toure who drives his effort low and hard from 25 yards which is fumbled by Cech but cleaned up at the second attempt.
1714: Chelsea are creating chances now and this time it is a header from a corner as David Luiz is unmarked but he is unable to keep his effort down and it loops over the bar.
1712: It's been a lively couple of minutes from Torres who is working hard when he receives the right kind of pass and that is on the deck. He kicks the ball away in frustration after giving away a foul and the ref takes pity and lets him off a booking.
1710: More good stuff from Chelsea as Mata and Hazard are both involved as they eventually set up Ramires who is fully 30 yards out, but he decides to try his luck and it goes just over the bar.
1706: Some nice football from Chelsea as Mata switches play from right to left and Ashley Cole fires the ball across goal but it is blocked goes for a corner which is welll cleared. Some nice football there from Benitez's side in midfield and it seems he has made a slight change with Hazard playing closer to Torres.
1702: The second hald gets under way and lets hope this game improves. There have been no changes and I wonder if Rafa had an inspirational chat in the dressing room. To be honest he will be pretty pleased as Chelsea have looked pretty comfortable at the back.
1654: A short highlight package shows Cech consistently smashing the ball long and Torres has struggled to win anything against Kompany. Sure Rafa will want to chance that as it may have worked with Drogba, but it most certainly does not work with a struggled Torres.
1647: Thankfully half time arrives as that was a dreadful first half. Thankfully it can only get better. Benitez will at least be happy with a clean sheet.
1646: We are only going to have one minute of added time and I think most neutrals will be happy with that. It has been a damp squib of a game which certainly suits as the rain is lashing down in west London.
1644: A clear sign that Torres has lost some of his pace as he appears to be away from Kompany but the Belgian easily catches up and make a good tackle. Torres keeps going as he chases the ball but he once again loses out to James Milner this time in a straight foot race.
1642: What a chance for Aguero after a great header from Dzeko finds his fellow forward just seven yards out but his header goes straight into the thankful arms of Cech.
1640: David Luiz attempts a bit of Brazilian magic as he thumps a free-kick goalwards from all of 35 yards but it is simple for Joe Hart.
1637: Zabaleta has been the best attackng player for City as the right back plays a lovely one two that cuts through Chelsea's defence and his shot from the edge of the area is easily saved by Cech.
1636: After the free flowing passing football of Swansea and Liverpool, this is very much a war of attrition. Both sides are struggling to make any impact. I'm just hoping it gets better, it can't get much worse.
1632: Mata has some time and space on the edge of the box and he looks for the perfect defence splitting pass but it goes nowehere. Just two shots so far in this game and both have been for City, still waiting for one on target.
1630: Chelsea get a corner after good work from Hazard and Mata swings the ball in and it is initally cleared through a strong punch from Joe Hart. City look to break as Milner drives forward but his final ball is a poor one and Luiz easily intercepts.
1628: City are looking to get the ball into the feet of Dzeko and he lays the ball off to Sergio Aguero who wriggles past one defender but his shot is blocked and City get the throw. The Argentinean gets on the ball again and drives at the Chelsea defence but his pass is a poor win.
1625: Both sides are cancelling each other out at the Bridge and there has been some rather sloppy passes in the last few minutes.
1621: City are beginning to find their passing game as it is eventually worked out wide to Zabaleta who curls a lovely ball into the box and it is met by the head of David Silva. He generates plenty of power but it goes over the bar.
1619: A view of the bench and this time it is Mancini who certainly does not seem happy with proceedings. To be perfectly honest there is very little happening so far. The game is crying out or a touch of magic from someone. We do have a shot as James Milner trys his luck from the edge of the box but it does not trouble Petr Cech as it goes harmlessly wide.
1617: We have hit the 16 minute mark and the Chelsea fans start singing and applauding as it was the number worn but Di Matteo. The camera turns to Rafa but he is fully focused on the game.
1614: That's some lovely stuff from Mata but unfortunately Torres' touch lets him down after a brilliant pass from his fellow Spaniard. He will be desperate to get a goal today under Benitez but it doesn't appear as though Rafa has changed much with Mata, Hazard and Oscar still looking for intricate passes.
1612: Rafa has an impressive record against Manchester City as he is unbeaten in his last 10 games against the Premier League champions. Of course those sides were very different from the one that lines up today.
1610: Nearly ten minutes gone and neither side has really taken control of the game. Oscar trys to set up Torres with an early cross but it is easily cleared.
1607: There were some concerns just before the game that Vincent Kompany may not be able to play this afternoon but he came through the warm up and has started the game looking pretty comfortable. Could be one to look out for though.
1606: Some brilliant defending from Ashley Cole stops Pablo Zabaleta from getting his shot away but it is at the expense of a corner, however, that comes to nothing but City are already looking dangerous with David Silva looking to make things tick in midfield.
1605: There are a few fans with Di Matteo signs in the crowd but that could soon change if Benitez gets a win today. Meanwhile there is a early halt in the action as Gareth Barry fouls Ramires who requires some attention but he is okay to continue.
1602: And we are underway and its a fantastic start from Chelsea who are straight on the front foot. Ashley Cole immediately gets forward but his cross is overhit.
1558: Well it sounds like there were a few boos as Rafa made his way to the dugout and you can clearly hear the fans singing the praises of Di Matteo. However, there will be a warm round of applause for Dave Sexton who sadly passed away earlier today.
1555: Will we have a round of applause after 16 minutes to celebrate the reign of Roberto Di Matteo and how will the Chelsea fans react to Rafa. Plenty of interest in this game and it will of course be interesting to see how Fernando Torres gets on under a manager who so influenced his career.
1550: Team News:
Chelsea: Cech; Azpilicueta, Ivanovic, Luiz, Cole; Ramires, Mikel; Mata, Oscar, Hazard; Torres. Substitutes: Turnbull, Ferreira, Cahill, Bertrand, Romeu, Marin, Moses.
Manchester City: Hart, Zabaleta, Kompany, Nastasic, Kolarov, Barry, Y Toure, Silva, Milner, Dzeko, Aguero. Substitutes: Pantilimon, Maicon, K Toure, Garcia, Nasri, Tévez, Balotelli.
Referee: C Foy
1545: Welcome to the IBTimes live coverage of the first game of the reign of Rafael Benitez as Chelsea manager as he aims to inflict a first Premier League defeat of the season on Manchester City. The Spaniard can make a huge statement at Stamford Bridge and would surely win over many of the doubters should he manage to start life with a win. It certainly won't be easy against a City side who are out of the Champions League and will be putting all their efforts into retaining their title.