Chelsea will face competition from a trio of Premier League clubs as they attempt to persuade Radamel Falcao to leave Atletico Madrid for west London.
Spanish newspaper Marca has reported that Falcao will join a Premier League side and that he will be presented with a choice of clubs which includes Manchester City, Chelsea and Manchester United.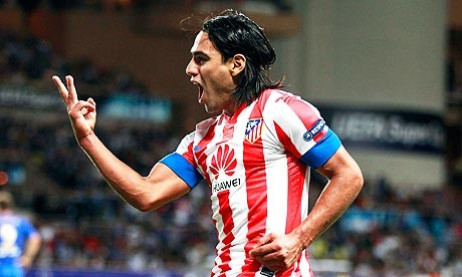 They have also reported that a fourth club from England have signalled their interest in the prolific goal scorer, which they believe to be Tottenham Hotspur.
The top Premier League clubs have often been able to persuade the best talent in Spain to make the move across Europe, especially when it comes to players who are not at either Real Madrid or Barcelona.
Atletico were previously forced to sell star striker Fernando Torrers to Liverpool, while the likes of David Silva, Juan Mata and Santi Cazorla have left top four Spanish clubs to represent their English equivalents.
Falcao seems set to follow in their footsteps, with Marca suggesting that all four Premier League sides are willing to match his buyout clause of €60million.
However, it seems unlikely that Manchester United would need to sign a fifth striker, while Tottenham would likely struggle to come up with the funds unless they raised the funds by selling Gareth Bale, who could demand a similar fee.
Manchester City have reportedly been interested in Luis Suarez, with suggestions that Roberto Mancini has finally given up on Mario Balotelli and it ready to replace him with another forward in January.
City certainly have the funds available and have previously persuaded Yaya Toure to leave Spanish giants Barcelona in order to compete for trophies in England.
Yet it seems that Chelsea are still the favourites, with Falcao admitting that he would be interested in joining the last season's Champions League winners.
"Chelsea are champions of Europe and there is not much more to say than that. Even after winning the Champions League they still go and sign players of the highest quality. Their ambition is clear," said Falcao.
"I would not be worried about the physical aspect of the Premier League. I have scored goals in Argentina, Portugal and now Spain. I am confident I can adapt my game to any league. I would welcome the challenge of the Premier League.
"I was also a big fan of Gianfranco Zola when I was growing up. I have watched the Premier League for a long time. There is so much quality and it is such an exciting league. Of course it is nice to think I might play in it."