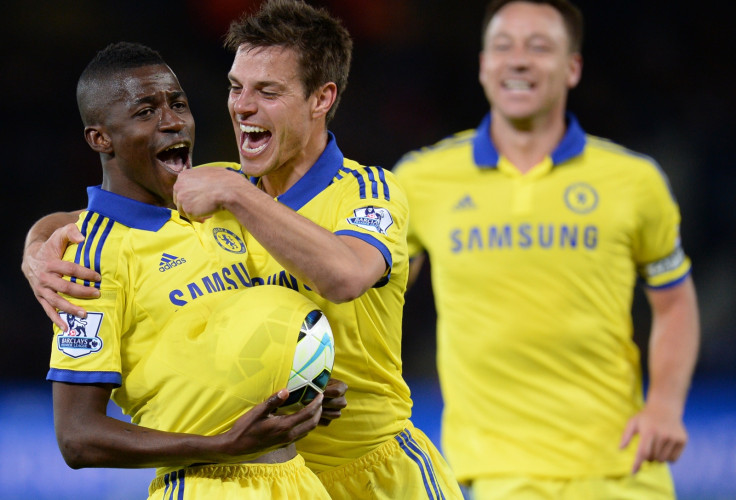 Chelsea midfielder Ramires has provided a public update on his condition after missing the club's 1-0 victory over Crystal Palace on 3 May.
The Brazilian international was due to start the fixture at Stamford Bridge, yet was forced to withdraw from the squad shortly before kick-off to be replaced by Juan Cuadrado as a result of a mystery illness.
After the win, which mathematically secured the Premier League title for Chelsea, manager Jose Mourinho revealed that Ramires had been feeling so unwell in the dressing room that he had to be taken to hospital as a precautionary measure.
Speaking on Instagram, the 28-year-old confirmed that he had been suffering from renal issues and had now returned home to begin his recovery.
"Hello guys! As you saw, I was very sick yesterday minutes before the match because of a renal complication, but I'm well and home with my family," he said.
"Thank God it was nothing serious and I will be fully recovered in a few weeks. Thank you to all that sent me messages and were with me.
"I would like to thank the Chelsea's medical team for the exceptional job. I was sad not to be part of the party on the pitch, but very pleased with the title, the only English title I had left to concur. Congratulations Chelsea!"
Ramires has made 24 appearances in the Premier League under Mourinho this term, although only 12 of those have been starts with Nemanja Matic and Cesc Fabregas having established themselves as Chelsea's first-choice midfield partnership.
Although clearly still valued by his manager, such a significant reduction in playing time has led to speculation that the former Benfica player could exit Chelsea this summer.
Juventus have frequently been linked with a move for his services as interest in Paul Pogba continues to mount across the continent, although it is unclear at this stage if Ramires would be receptive to the possibility a move to the reigning Serie A champions.
Following their latest victory, Chelsea host Liverpool next and finish an impressive season with matches against West Brom and Sunderland.