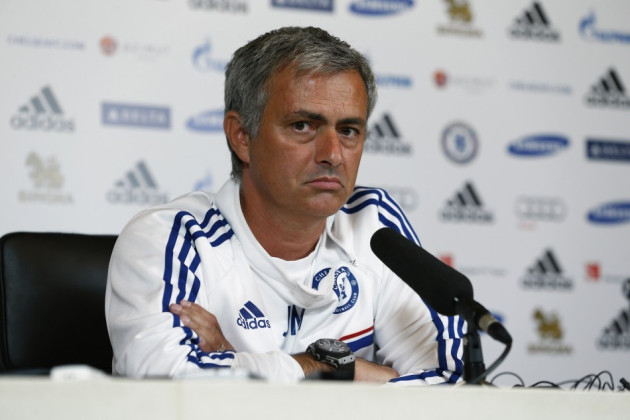 Chelsea manager Jose Mourinho has written off Liverpool as title Challengers but insists that Tottenham and Manchester City have the squad to triumph this season.
The former Real Madrid manager believes that Liverpool do not have the strength in depth in certain areas to challenge, as was evident in their 2-0 defeat at the hands of Arsenal in the Emirates stadium. Liverpool are currently joint on points with Chelsea but are behind the Blues in third, who are second on goal difference. Meanwhile, Manchester United have failed to push on from where they left off last season, currently eighth in the league and eight points behind league leaders Arsenal.
Mourinho's Chelsea have not been at their ruthless best this time around, having lost to Newcastle in the Premier League after a convincing 2-0 win over Arsenal at the Emirates. However, the Blues have looked dangerous whenever they have been on song and are possibly a proper striker away from running away with the league. Samuel Eto'o, Fernando Torres and Demba Ba have failed to get the ground running and Mourinho will be looking to sign a striker come January which will take them back to being the rampant force they were when the Portuguese first joined Chelsea in 2004.
"I think City has the most incredible squad. I think United is United, and history makes them contenders, too. Tottenham is the big spender of the summer and, because of that, they have a fantastic squad with two teams of equal players," Mourinho said.
"At Arsenal, the manager is building a team step by step - the club is stable and buying a player like Mesut Ozil makes a difference. Liverpool are probably the club with least resources because, while their team looks as strong as the others, their squad doesn't look quite so strong. At the same time, they don't play in European competition, so they only play one match a week, so they are training, preparing and resting for the weekend match while the rest of us are playing in Europe," he added.