Chelsea midfielder Oscar believes his new club and his national team share a similar style of play, which made it easier for him to adjust to his new surroundings.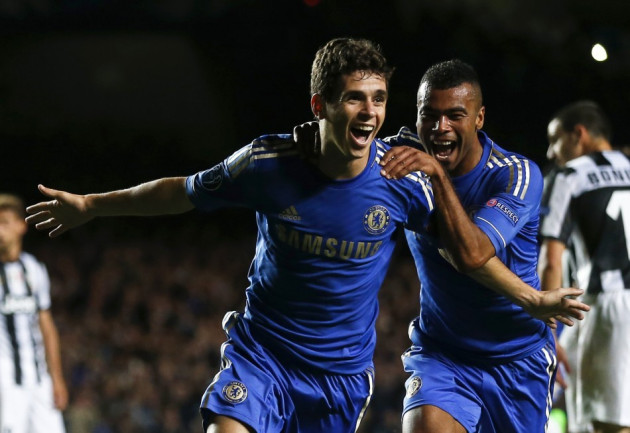 "It's a pleasure to play for a team which attacks like this. I'm Brazilian so of course I like playing this style of football a lot. It makes me happy to be part of a team playing this way. It's very important to me to enjoy my football and to be with a club which has the same philosophy," Oscar explained.
"I have already struck up a good understanding with Juan Mata and Eden Hazard and our relationship is improving with every match we play together. After every 90 minutes we feel as though we have a better understanding of each other's game and, hopefully, there is much more to come from us," the Brazilian added.
"The Premier League is a very different sort of football to what I was used to in Brazil and it does take some getting used to. I am adapting to my new environment but London is a marvellous place to live and I'm happy with my move," he said.
The attacking midfielder made a move to Chelsea for £25m from Brazilian side Internacional during the summer transfer window. The highly-rated 21 year old made his debut against Italian champions Juventus in the opening game of Champions League group stage and stamped his mark on English football with two brilliant goals in the club's 2-2 draw with the Italians. Since then, the Brazilian has been a regular in Roberto Di Matteo's starting line-up. All in all, Oscar has scored four goals this season (all in the Champions League) and he believes his 35-yard stunner is one of the best of his career to date.
"I feel as though I've settled in well to both competitions [Premier League and Champions League]. The most important thing is I am adapting to Chelsea and to my team-mates and I have to keep that process going. As a player and as a person, I still have a lot to learn and improve. I have to show what I am capable of but feel I am getting better with every day," Oscar added.
The Blues are presently second in the Premier League, with 23 points from 10 games and trail leaders Manchester United by a single point. Roberto Di Matteo's side will now play Liverpool, at home, before visiting the Hawthorns and then travelling to Turin for the reverse fixture against Juventus.