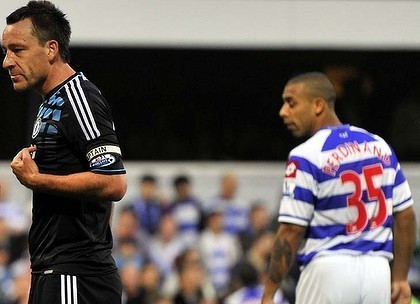 The Premier League has confirmed the traditional pre-match handshakes will take place when QPR host Chelsea at Loftus Road. The game will mark the Blues' first return to the ground where an ugly racism controversy erupted between England international John Terry and the Hoops' Anton Ferdinand.
A statement on the FA's official website reads: "There has been dialogue between the Premier League, Queens Park Rangers and Chelsea in relation to tomorrow's match between the two clubs. All parties understand and acknowledge that the pre-match handshake will go ahead as part of the normal pre-match activity."
The 31-year-old Terry was accused of making racist comments when the two sides met in October. The target of those alleged comments was the younger brother of Manchester United defender (and Terry's former international team mate) Rio Ferdinand. The Blues veteran was recently cleared of criminal charges but faces an independent FA hearing, scheduled for 24 September.
The intensity of the rivalry and controversy led several people to question whether the two would shake hands before the start of the match (assuming both play). The debate also brought back memories of a similar racism incident involving Liverpool striker Luis Suarez and United defender Patrice Evra; Suarez refused to shake hands with the Frenchman when the two were back on the pitch together, incurring his club's wrath.
Queen Park Rangers' manager Mark Hughes has also confirmed pre-match handshakes, although his comments indicate he is not happy with the idea.
"We've had discussion about it but that's between myself and the players. I have a view on where they are, but if the Premier League says the handshake goes ahead then so be it, we'll accept that," ESPN quoted Hughes as saying.
The visitors will find few friendly faces on the pitch but Terry is likely to find at least one friendly face in the crowd. QPR new signing Bobby Zamora has confirmed he will gladly shake the Blues' skipper hands as they are old friends. The former Fulham striker transferred to QPR for around £4m this summer.
"We grew up together and of course I'll shake his hand if he's playing on Saturday. All this stuff happened a long time before I joined QPR. I came in as an outsider to it and I won't be paying attention to any of it," The Sun quoted Zamora as saying.