QPR midfielder Joey Barton has sought to clarify comments he made earlier, regarding the incident involving Chelsea forward Eden Hazard and a ballboy at Swansea City's Liberty Stadium.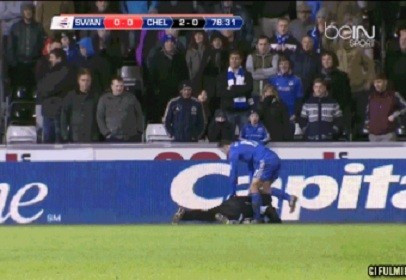 The 30-year-old midfielder, now on loan to Ligue 1 club Olympique Marseille, has tempered his earlier comments and clarified he was not "advocating kicking ballboys". His new tweet reads:
"Just re-read that last tweet and it sounds like I'm advocating kicking ballboys! Haha I was merely trying to point out Hazard, may as well.. of kicked him properly for the way he is going to be punished for this. Public perception is he's volleyed him. In reality he's tried all be it in an aggressive manner to dislodge the ball from beneath him. I am strictly against the kicking of balls people. #kickitout Hope that clears that statement up... #twisted sentiments."
The incident involving the 22-year-old Belgian international and the 17-year-old ballboy (now identified as Charlie Morgan, son of Martin Morgan, owner of Morgan hotels and a major stakeholder in the Welsh club) occurred late in the second half.
The ball boy appeared to fall on the ball as it ran out of play, and refused to relinquish it, prompting Hazard to wrestle him and aim a kick into his ribs.
Hazard, who was given an immediate red card by referee Chris Foy, apologised for his actions when Morgan visited the Chelsea dressing room after the game.
Barton's earlier comments first criticised the ballboy for deliberate time-wasting and the following tweet said that, in his opinion, Hazard had not kicked the boy hard enough.
Laudrup on Hazard and Chelsea
Meanwhile, Swansea manager Michael Laudrup has said he feels the red card shown to Hazard effectively ended Chelsea's hopes of overturning the 0-2 deficit and reaching the final of the competition.
"They lost the belief they could do it after the red card. You could see when he was sent off that they were finished. After the red card, I saw the reaction from both teams and knew that was it," the Dane explained.
"There have been times in the two games when they [Chelsea] have dominated but that's what you expect players of that level to do. But what gave me belief was our start. Our major concern was how the players would be going into the game, when you've got one foot in the final, you're so close and yet so far away," the ex-Barcelona and Real Madrid star said, adding, "In my mind it was about how our players reacted to being in that situation. Then I saw the first 10 minutes when Wayne Routledge had a shot blocked and there was a one on one with Michu. We didn't score but we started well. I thought we could do it then."