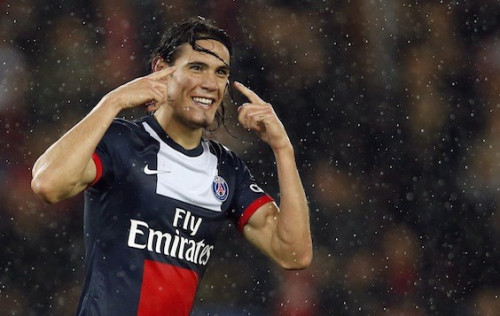 Jose Mourinho reportedly wants Chelsea to complete the signings of Paris Saint-Germain star Edinson Cavani and Southampton defender Luke Shaw before the World Cup commences in June this year.
The Sunday Mirror claims that the west London club have already set the ball rolling in an attempt to negotiate deals for both players at the end of the season. The Portuguese tactician has been interested in the Uruguayan international as he aims to improve his side's attacking prowess in the summer.
Earlier this month, the 51-year-old had expressed his desire to not add more than two players to his squad in the summer. However, the Mirror claims that Chelsea are ready to break the British transfer record once again by paying more than £50m for the PSG star in the summer with a part of finance for the deal to be made available from the sales of Romelu Lukaku and Demba Ba.
Lukaku is currently on a season-long loan at Everton and is in his second season away from his parent club. Ba's peripheral role has seen him make only two starts in the current league campaign. The former Newcastle United striker nearly departed from Stamford Bridge last month only for his employers to stall the deal following an injury to Fernando Torres last month.
Manchester United are also believed to be interested in signing Cavani and are preparing to lock horns with the Blues for the 27-year-old's signature in the upcoming transfer window.
Last month, the striker had dismissed speculation about his purported exit from the Ligue 1 champions as manager Laurent Blanc utilizes Zlatan Ibrahimovic as the main man upfront, deploying Cavani in a wide role.
Meanwhile, the Chelsea boss is also keen on singing a long-term replacement for Ashley Cole and has set his sights on the Saints's youngster as the suitable candidate.
Cole's contract is set to expire at the end of the current campaign and reports earlier suggested that the 33-year-old will be offered a one-year extension to his current deal.
However with no visible offer on the table so far, the former Arsenal star reportedly wants to wait till the end of this season before making a decision on his Chelsea future.