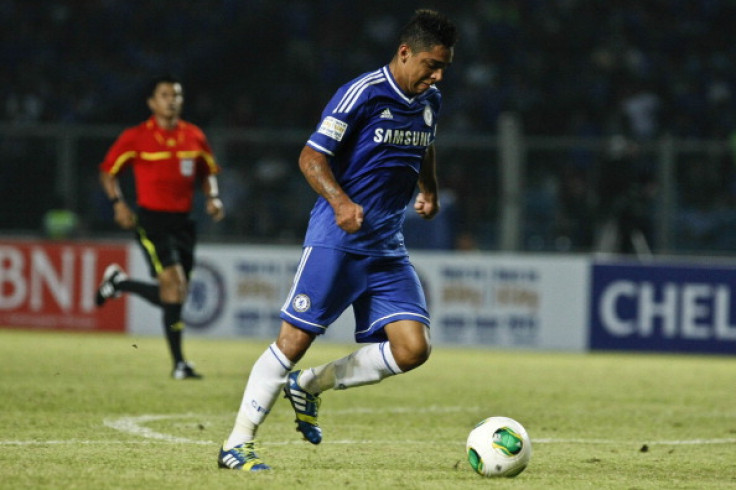 Chelsea defender Wallace has joined newly promoted Italian side Carpi on-loan for the 2015/16 season.
The 21-year-old was signed from Brazilian outfit Fluminense in December 2012. After failing to cement a place in the starting lineup, he spent the 2013/14 season on-loan at Inter Milan.
However, Wallace struggled to impress and excelled during his loan spell at Vitesse last season. He will now join the newly promoted Serie A side, who will make their debut in Italy's top flight football next term.
Carpi have the option to sign him on a permanent deal once his loan spell expires at the end of the 2015/16 campaign. The Italian outfit confirmed they can do so on their official website, as reported by Sky Sports.
"The Carpi FC is pleased to announce the acquisition of the registration rights of the player Wallace Oliveira dos Santos from Chelsea FC on a temporary basis with pre-emptive rights in favor of the white and red club," a statement on Carpi's official website read.
"For the Brazilian full-back, in force at Vitesse last season, it is a return to the Italian league after the 2013/14 season in which he played for Inter."
Wallace is a versatile player, who can play as either a left-back or a right-back. He has already featured in the Serie A, where he made only three appearances in the entire season. After a disappointing time at San Siro, the South America defender will be hoping to impress during his loan spell at Carpi.
Meanwhile, former Chelsea keeper Carlo Cudicini, who is currently the club ambassador revealed he never envisaged the Premier League to become the best league in the world when he joined the Blues in 1999 from Castel di Sangro, before sealing a permanent transfer a year later.
"In the 1990s, Serie A was the league where all the players wanted to be, and then it changed slowly," Cudicini told Chelsea's official website.
"By the late 90s, early 2000s players started coming to England from Italy but I don't think at that point anyone was thinking the Premier League would become as big as it is now. That shows the amount of work the Premier League does to make sure it is now the best league in the world," he added.