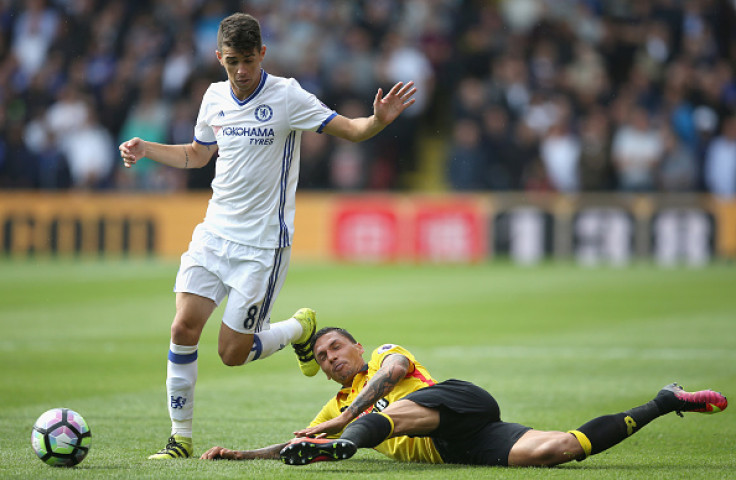 Chelsea star Willian has confirmed his Brazilian compatriot Oscar will leave Stamford Bridge and make a switch to China when the transfer window reopens in January.
The 25-year-old, who made a switch to the west London club from Internacional in 2012 lost his place in the starting lineup after Antonio Conte's arrival. He has made only six appearances in all competitions out of which five of them came in the Premier League.
Lack of playing time at Chelsea saw Oscar linked with a move away from his current employers. According to the BBC, Shanghai SIPG are preparing a £60m ($74.9m) bid to bring the South American star to China.
Willian revealed that Oscar has already said goodbye to his Chelsea teammates ahead of his proposed move to China in the mid-season transfer window.
"[Oscar] has already said goodbye. He's a good friend and a great player," Willian told ESPN Brazil, as quoted by the Evening Standard.
"I wish him and his family all the best. A footballer's career can be quick, and when an offer like this comes in you have to think of your family. You want to be prepared for when you have to stop playing," he added.
The former Juventus and Italy coach had earlier hinted that Oscar was close to leaving the club. Conte even took a dig at the midfielder after suggesting that one needs to put passion before money and suggested that the Premier League is where the player can test his resolve.
"Oscar is a really good player. I was very proud to have him in my squad and have him as my player. If you ask me, 'Are you sorry?' then yes, I am sorry," Conte said, as quoted by the Daily Mail.
"I am sorry because he is leaving as a really good player and a really good man. I must be honest about this."
"England is the best in the world if you have ambition to test yourself against the other teams. To play in this league is a great opportunity, an honour. You must be very proud to play in this league because now it is the best in the world."
"The most important thing for us must be the passion. The passion for football. If you have not got that, it is no good. No good. I repeat: this concept is very important. Before the money must be the passion, the passion for the sport, for football," he noted.