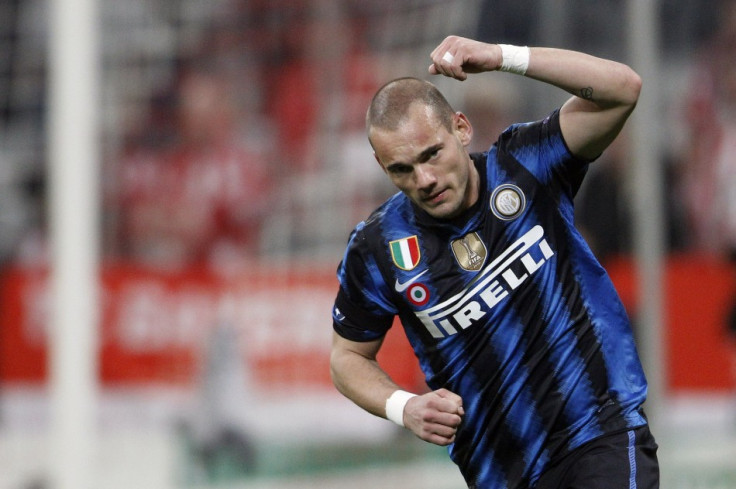 Italian media are claiming that Wesley Sneijder is keeping an eye on the developments at Chelsea this season, with the playmaker considering a move to the club if Andre Villas-Boas leaves as manager.
Calciomercato.it claim that Sneijder will very likely leave Inter Milan in the summer, and while he has widely been reported as a Manchester United target, the Red Devils wouldn't be able to afford his wages and high transfer fee.
The report explains that while big spending Russian club Anzhi Makhachkala look likely to be the only side that can meet Sneijder's demands, if Jose Mourinho does make a return to the Premier League, the Dutchman would be very tempted to make a move with his favoured manager.
Mourinho and Sneijder worked together at Inter Milan, and the pair won a Champions League trophy together in 2010.
Reports have widely linked Mourinho with a return to Chelsea this summer, as Andre Villas-Boas comes under increasing pressure at the club to deliver. Tonight's Champions League match is set to be a defining moment for the 34 year old, with the Blues currently struggling in the FA Cup, and sitting outside the top four.
And Sneijder is reportedly paying close attention to the situation at Chelsea, who would likely be able to pay the sky high transfer fees and wages for the 27 year old.
Anzhi, who are currently seventh in the Russian Premier League table, will need to make the Champions League before Sneijder will consider making a move to Russia, and Chelsea look to be a lot closer to making the European tournament next season, with the Blues equal with fourth-placed Arsenal on points and goal difference.
Sneijder admitted at the end of January that if a club had made a move for him, he might have left, with his future looking more uncertain than ever in the lead up to June.
"I am happy at Inter, but we will see," he said at the time. "I currently have no contacts with other clubs and I am living day by day.
"If on the last day of the transfer window an offer had arrived, maybe I would have left.
"The truth is that I feel at home at Inter, but I do not know where I will play next season."
Chelsea would be in a particularly good position to buy Sneijder, with Manchester City and United both having ruled out their interest in the star in the past.