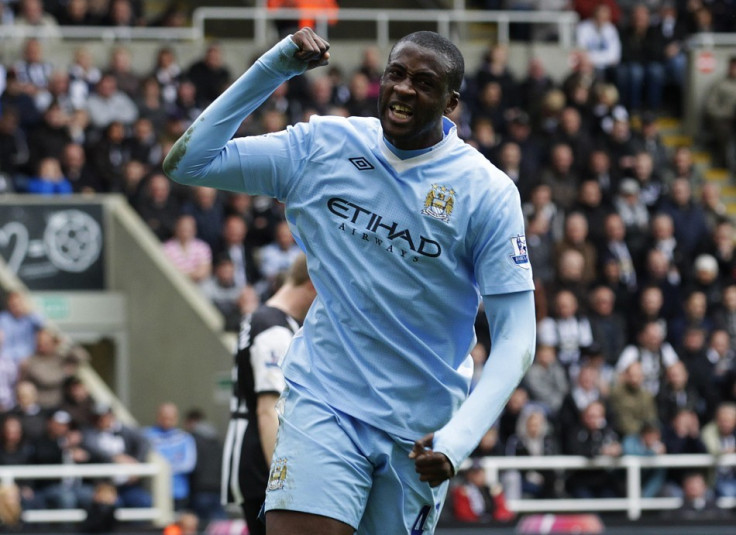 The 29 year old Ivory Coast star is believed to have been identified as the ideal candidate to assume leadership and mentoring roles at Stamford Bridge, given the expected departure (in the near future if not now) of veterans like Frank Lampard, John Terry and Ashley Cole. The Daily Star reports the Blues' manager, Roberto Di Matteo, is eager to provide his younger players and new signings - like Belgian playmaker Eden Hazard and Brazilian midfielder Oscar - a calming and experienced anchor, both on and off the pitch.
Toure, who transferred to the English champions from Catalan giants Barcelona in 2010, has since become the heart and soul of Roberto Mancini's side, and his marauding presence and runs in and from the Citizen's midfield means the Etihad outfit will do everything they possibly can to retain his services. Unfortunately for them, the player's agent has been quoted as admitting his client has become jaded playing for the club and is looking for a new challenge.
"Toure has done all he can do at City and needs new motivations. He would like a new challenge. He would not cost much. He could sign for many big clubs, like Chelsea or Bayern Munich," the player's agent, a Dmitri Seluk, was quoted as saying in a Daily Mail report.
It should be noted, though, that Toure himself has made no comment on the matter and has expressed no such unhappiness with City; meaning this could well be a ploy by Seluk to negotiate an even higher contract for his client... much like Cristiano Ronaldo's "sadness" at Spanish champions Real Madrid.
The African footballer, who is expected to report for international duty with his country for the 2013 African Nations Cup (ANC), has three years left on his £260,000 per week contract with City. Any offer for the midfielder will, therefore, have to be of an astronomical amount, considering the Etihad outfit is in absolutely no need of money. In terms of wages, the Daily Star report indicates Chelsea's billionaire Russian owner, Roman Abramovich, has authorised a package worth £300,000 per week for Toure, which, if accepted, will rank him alongside Cameroonian Samuel Eto'o (of Russian club Anzhi Makhachkala) as the most highly-paid footballer in the world, as well as making him a record earner for the club.
Toure to Chelsea, Really?
While the prospect of Toure bossing the Blues' midfield and providing a platform for the likes of Hazard, Juan Mata, Oscar, Victor Moses and Marko Marin, is a tempting one, prudence and logic dictates this is an unlikely event. Should Abramovich and Chelsea pull this off, we could be forgiven for classifying them alongside Spanish champions Real Madrid, whose fantasy-level transfers include the signing of Cristiano Ronaldo and David Beckham.
The first and most pertinent point - Toure has three years left on his City contract and City do not need the money from the sale, no matter how much it may be. In fact, it isn't even about the money. It could come down to pride. The African is the lynchpin that holds Mancini's side together and to sell him would be, in some sense, to declare themselves less ambitious than the Blues... and that could never be done.
The only reason City may even consider the prospect of selling Toure is wages. The midfielder commands a massive salary at Etihad and while he is certainly worth every penny, there must be awareness within the champions' camp that UEFA's Financial Fair Play (FFP) regulations, of which they have already been warned about, could play a role in deciding whether Toure goes or stays.
This could well be the case if reports of a £30m move for Italy international Daniele De Rossi are true. Moreover, De Rossi is believed to earn about £180,000 per week at the Stadio Olimpico, so it could even be City come out ahead in the salary stakes. If Mancini does manage to swing that transfer his way, then letting Toure go to Stamford Bridge for, say, £10m - £15m more might be a good bit of business. The danger there, however, is that they would lose someone like Toure to a direct title rival... and that could well come back to haunt them later in the season.