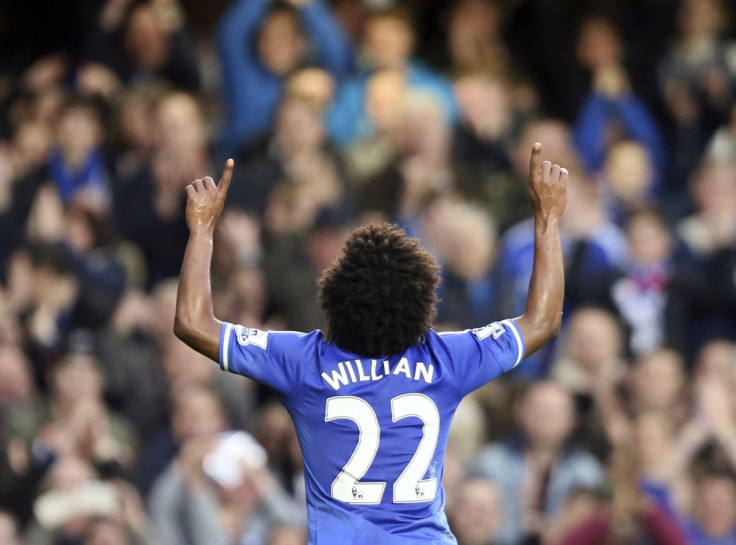 Chelsea star Willian says he hopes new signing Juan Cuadrado will be happy at Stamford Bridge but admits he is ready to fight the Colombia international in order to keep his place in Jose Mourinho's starting line-up.
The Premier League leaders confirmed the arrival of the former Fiorentina winger on January deadline day reportedly for £23m, while Andre Schurrle and Mohamed Salah left the club to join Wolfsburg and Fiorentina respectively.
Willian won the battle for the right-wing against Schurrle and Salah during the first part of the season, starting 17 out of 23 Premier League games.
But the Brazil international faces a bigger fight to keep his place in Mourinho's XI following the arrival of Cuadrado.
However, Willian, far from being intimidated by the competition, believes the Colombia international's arrival will push him to be an even better player.
"It is true that with the arrival of Cuadrado the competition for a place in the squad increases. But I will always fight for my place. As I've said before, I can never feel comfortable otherwise another player comes and takes my position," Willian said as reported by Goal.
"I always want to improve and that is why I always try to work hard to keep my place in the squad. He's a good player, he did his first training sessions with us this week. We have spoken with him and he seems like a good guy. We hope he can be happy with us here at Chelsea."
Meanwhile, Willian hailed Mourinho's recent decision to cancel the press conference before and after the 1-1 draw against Manchester City.
"He talks with us a lot. I think he says these things - that there is an agenda against Chelsea - to protect our group. He says it to motivate us and show he is with us all of the time. Sometimes he says things to the media in order to make us stronger," the Brazilian winger said.
"We are top of the league and everyone wants to steal our position. That is why he wants us to be aware of it and maintain our focus for the rest of the season."