The heaviest rainfall in more than a century has caused massive flooding across the eastern Indian state of Tamil Nadu. Thousands of people have been driven from their homes in the state capital Chennai.
Weeks of torrential rains have forced the airport in Chennai to close, as well as cutting off several roads and highways. The rains have resulted in levels of the Adyar river, which runs through the city before draining into the Bay of Bengal, rising to a dangerous mark. The threat of the river overflowing its banks has led to fears the flooding could worsen.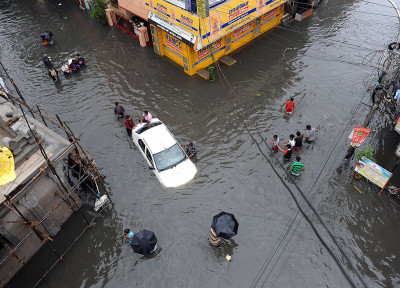 No deaths were reported in the latest floods, but since heavy rain set in on 12 November there have been 150 deaths across the state. The national weather office predicted three more days of torrential downpours in the state of nearly 70 million people.
In a limited initial relief effort, four helicopters dropped food, water and medicines, while fishing boats commandeered by the military collected stranded residents. A major relief effort by 5,000 soldiers was promised within 24 hours.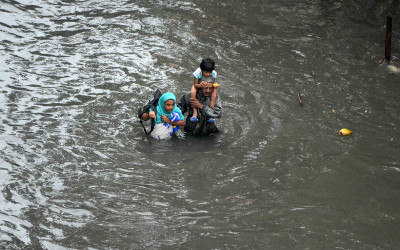 Weather experts say the seasonal northeast monsoon was responsible for the flooding in the city of six million, but was amplified this year by El Nino, a warming of the eastern Pacific Ocean that can have far-reaching climate effects. Prime Minister Narendra Modi has blamed climate change for the deluge, injecting urgency into the debate at global climate talks in Paris and highlighting the vulnerability of tropical nations like India to extreme weather.