Chennai Floods: Indian city battered by torrential rain bringing life to standstill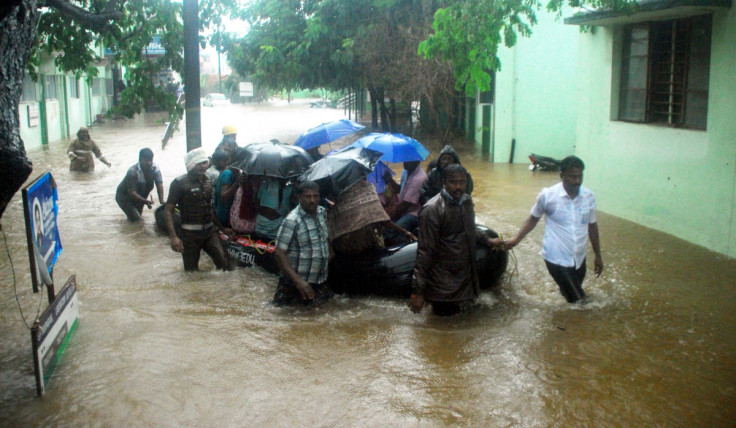 The South Indian city of Chennai has been battered by torrential rain knocking out power supply and crippling transport services. The record levels of incessant rain have caused severe flooding in several parts of the coastal city.
The federal government has deployed both army and naval personnel in rescue operations as many low-lying places in the city have been submerged. The international airport has been shut down as the runways are flooded, leaving thousands of passengers stranded at the airport.
In some parts of Chennai – which boasts itself as the car manufacturing hub of India - entire houses have been submerged as residents are fleeing to upper levels of residences for safety. The city, crippled by poor infrastructure, had witnessed record rainfall in November and was limping back when the current spell of rain started. Authorities have issued strong warnings to inhabitants to stay indoors.
With some local reports suggesting Chennai has experienced its worst rain in nearly 100 years, forecasters have warned of more rain. Speaking to IBTimes UK, regional meteorological department director Ramanan, said: "Rains will definitely continue for the next five days. Although it may not be as bad as yesterday [1 December], most parts of Chennai and surrounding regions will experience significant amount of rainfall."
Relief measures
The country's naval warship INS Airavat, which is currently stationed in Vishakapatinam port, has been deployed to Chennai to carry out emergency measures. The warship, laden with relief material, is expected to reach the rain-devastated city on Thursday, 3 December. Drones and helicopters have been deployed as part of the rescue operations.
Local transport services have been thrown out of gear. So far, close to 100 people have died across Tamil Nadu - the state of which Chennai is the capital – in rain-related incidents.
Dramatic scenes have been unfolding across the city, notorious for water shortage. The two main rivers running through the city are overflowing and flooding the bridges. Key arterial roads have been closed by authorities fearing some of the bridges could collapse.
At least five huge lakes located on the outskirts of Chennai are on the verge of breaching their banks, raising fears that the situation could worsen. "The situation is grim. Most of the areas are flooded and people with homes on the ground floor have suffered most. There have even been reports of crocodiles and snakes entering buildings," Siddhant Mishra, who works as a journalist in Chennai, told the IBTimes UK.
"Many residents were active on social media, offering help to those stranded, by providing shelter and food for the night. Malls and public places too remained open to accommodate people."
Civilians turn Good Samaritans
Even as Indian Prime Minister Narendra Modi is set to hold an emergency meeting with his cabinet ministers on the situation, scores of residents and civilians have turned Good Samaritans. Contributions have been pouring in from several corners as private businesses and individuals rush to take part in relief measures.
A crowd-funding effort organised by a few residents from the nearby city of Bangalore is set to be launched. Food packets, blankets and other essentials will be collected for the flood victims. Scores of residents, NGOs, businesses, malls and buildings of IT firms in Chennai have also offered to shelter those whose houses have been flooded. Social media has been bombarded with images of inundated houses, submerged vehicles and people battling to wade through neck-deep water.
© Copyright IBTimes 2023. All rights reserved.