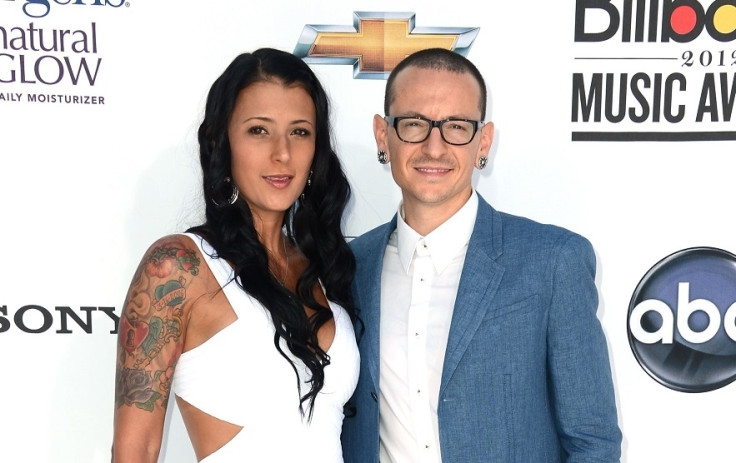 Chester Bennington's wife Talinda has shared a heartbreaking photo of her late husband taken just days before he took his life at his California home. The Linkin Park singer was 41 years old.
Talinda took to social media on Thursday (7 September) to share the photo of the late singer with his family from their last vacation. The image shows Talinda smiling warmly at the camera, while Chester and four of his kids are seen grinning and looking out at the view during their fun-filled day at a beach.
"This was days b4 my husband took his own life. Suicidal thoughts were there, but you'd. Never know. #fuckdepression," she wrote alongside the photo on Twitter to raise awareness about suicide and depression.
Days after the tragic death of her husband, Talinda penned a touching letter, which was published on Rolling Stones.
"One week ago, I lost my soulmate and my children lost their hero – their daddy. We had a fairy tale life and now it has turned into some sick Shakespearean tragedy," Talinda said.
Talinda expressed how difficult it will be for her family to move on in life following the death of her husband.
"How do I move on? How do I pick up my shattered soul? The only answer I know is to raise our babies with every ounce of love I have left," Talinda said.
She also thanked fans for their support and said, "I want to let my community and the fans worldwide know that we feel your love. We feel your loss as well. My babies are so young to have lost their daddy. And I know that all of you will help keep his memory alive."
Talinda concluded the letter by remembering her husband, who she said was "a bright, loving soul with an angel's voice".
"And now he is pain-free singing his songs in all of our hearts. May God bless us all and help us turn to one another when we are in pain. Chester would've wanted us to do so. Rest In Peace, my love," she wrote.
---
The Samaritans provides a free support service for those who need to talk to someone in the UK and Republic of Ireland. Visit Samaritans.org or call 116 123 (UK) or 116 123 (ROI), 24 hours a day, 365 days a year. Visit this website to find a support phone number in your country.