Chicago homicide rate surges to highest level in 60 years with 762 killings in 2016
Guns were the main scourge with 1,100 more shooting incidents than the previous year.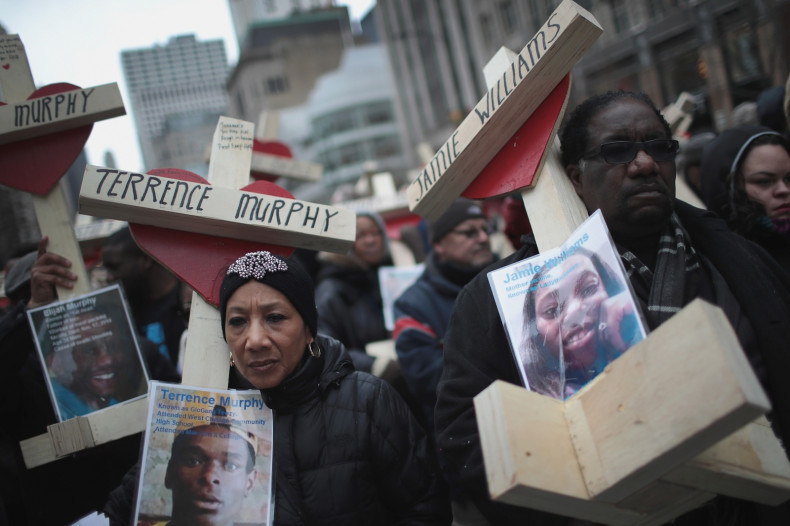 Chicago had its biggest hike in homicides for 60 years in 2016 with more killings than New York and Los Angeles combined.
There were 762 killings in the Windy City, an increase of 57%, according to statistics from the Chicago Police Department which showed there were 1,100 more shooting incidents in 2016 than the previous year.
Chicago Police Department Superintendent Eddie Johnson said: "It's no secret that the city of Chicago had its fair share of challenges in 2016."
WGNtv.com reported that the rise in violent crimes originated in just five police districts in the city's West Side and South Side.
"Despite the belief that the entire city is up for grabs, the majority of the increase in the violence we saw in 2016 the majority of the violence was driven by five of our of the 22 police districts," Johnson said.
Chicago Police confiscated 8,300 illegal guns off the streets, which is a 20% increase from 2015. "CPD took more bad guys with guns off the street in 2016 than we did in 2015," the superintendent said, according to the Chicago Sun Times.
Johnson outlined some of the initiatives police will be taking in 2017, including hiring additional officers, funding economic growth and providing support for young men in violent neighbourhoods. The police department expects to add nearly 1,000 more beat officers, detectives, lieutenants, sergeants, field training officers and others to the force, the Sun Times reported.
Mayor Rahm Emmanuel's office will invest in mentoring programmes in 20 of the most violent neighbourhoods and offer incentives for industrial developers and commercial retail. Police said that Emmanuel will also fund the Neighbourhood Opportunity Fund and the Community Catalyst Fund.
Police also hope to work with state legislators on a bill that would increase sentences for repeat gun offenders. "CPD can't do it solely on its own, no one can," Johnson said. "If you give us the tools that we need to hold these individuals accountable, I promise you 2017 will be a much better, and safer, year for the city of Chicago."
Johnson said that Chicago Police will equip officers from all districts with body cameras and noted that the Community Policing Advisory Panel will make recommendations in a few months into 2017 for a revised community policing strategy.
"The violence in 2016 was driven by emboldened offenders who acted without a fear of penalty from the criminal justice system," Johnson said. "The challenge we face as a city is serious, and like other cities it is significant. We will be adding to our police department, we are committed to partnering with residents, we will benefit from the investments being made by the mayor, and if we come together and work together I know we can turn the tide in 2017."