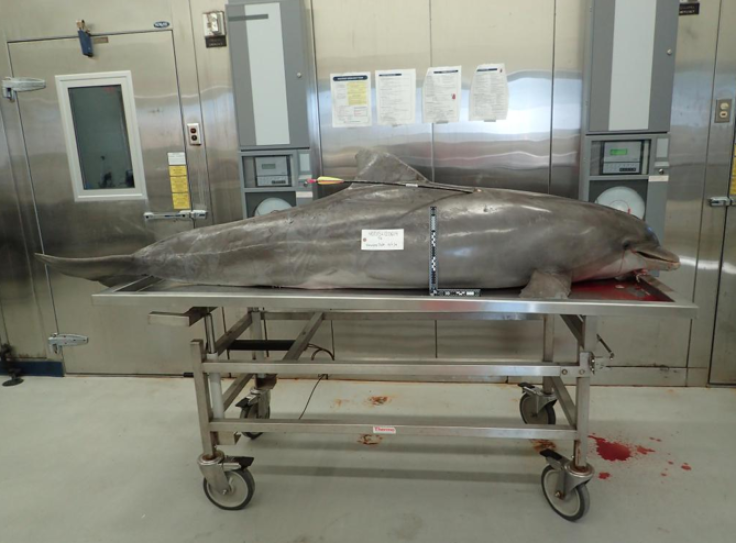 A child has admitted to charges of killing a dolphin using a bow and arrow off the coast of Florida.
The wounded and dead dolphin was found on the Orange Beach in Alabama in early December, a week after the killing, and the arrow was found still embedded on the dolphin's side.
The culprit was led to the police using the help of media with The National Oceanic and Atmospheric Administration (NOAA), which was investigating the incident, offering a £24,000 reward for information on the perpetrator.
Tips lead to break in the case of a dolphin found dead, shot with a hunting arrow in Northern Gulf of Mexico http://t.co/xnIZJ8pxmE

— NOAA Fish Southeast (@NOAAFish_SERO) December 19, 2014
Reward just increased to $24K for info on death of dolphin shot with arrow in Alabama. More on this story: http://t.co/frDYqrLTCo — NOAA Fish Southeast (@NOAAFish_SERO) December 17, 2014
Under a marine protection act from 1972, harassing, killing or feeding dolphins remains banned in the US.
Any violation is punishable by fines of up to £64,000 ($100,000) or a year's sentence in jail.
.@NOAA following leads on dolphin deaths: http://t.co/CfHKLu1W5p via @KimBlairPNJ #pnjnews #NOAA #dolphins pic.twitter.com/Mbr2vpXrBs

— Kaycee Lagarde (@KLagardePNJ) December 16, 2014
Since the accused is underage, no further details have emerged on his name or the charges faced. Meanwhile, NOAA has observed a rising trend in dolphin killings in the Gulf of Mexico in the last few years. An accused person is still on the lose after a pregnant dolphin was shot in late November in the Coctawhatchee Bay off Florida, reported The Independent.
"@craigtimes: Feds seek help in ID"ing who shot a pregnant #Florida dolphin dead http://t.co/d9fkh4AARP pic.twitter.com/OTszPP91JQ" #ihatepeople — quorndawg (@QuornDawg) November 27, 2014
A total of 12 cases have emerged since 2002 where dead dolphins were discovered with apparent gunshot wounds in the Gulf of Mexico.