Chile: 30 million joints could come out of largest medical marijuana farm in Latin America
The biggest medical marijuana farm in Latin America has been formally opened in Chile. The 6,900-stalk plantation was inaugurated on 19 January in the small town of Colbun, 170 miles south of the capital Santiago, and organisers say it could help around 4,000 patients across the country.
Between March and May, the project aims to harvest around 1.5 tonnes (1.65 tons) of the plant, under the supervision of the government's agricultural service, SAG. According to High Times, 0.43 grams of cannabis is typically used in one joint, meaning the Colbun project could produce enough of the plant for around 30 million marijuana cigarettes over those three months.
The Daya Foundation, which is behind the project, says there is clear evidence that bolsters the case for medical cannabis.
"Let's hear them say there's a lack of studies. What we are doing with this project, precisely, is to create three studies. That's exactly what we are doing, because it's what's missing," said head of the foundation Ana Maria Gazmuri.
For many activists, this represents a step forward in the traditionally conservative country's attitude towards the drug. Congress is debating the decriminalisation of small amounts of marijuana for personal use and cultivation.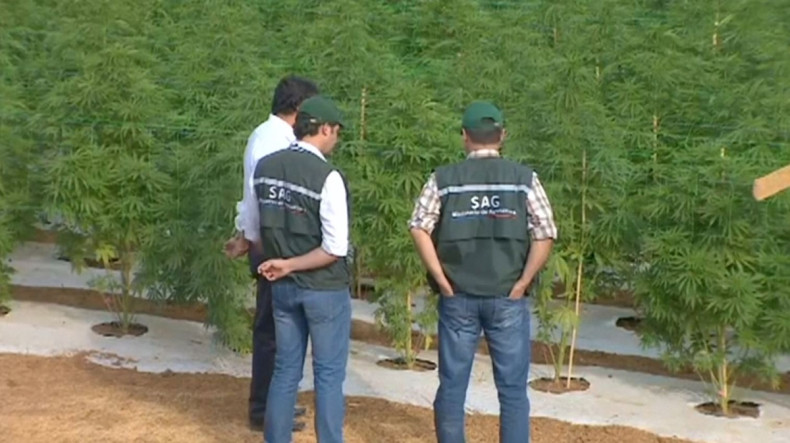 But others maintain that using and growing the drug should remain illegal. Veronica Gaete of the Medical College in Chile said: "Let's be responsible, let's be true and honest in terms of what scientific evidence shows. And not listen to deceptive publicity campaigns, which say this is useful in many ways, a panacea for many things, because that's not the case."
Nearby country Uruguay legalised the drug in 2013, and in Mexico a court ruled in November 2015 to allow small doses of medical marijuana. Some politicians in Chile say they have been keeping tabs on these developments.
"If this has shown on the international stage that it has a positive effect in the treatment of pain, among other things, good, we aren't those who are going to limit access to this for Chileans," said Karen Rojo, the independent mayor of Antofagasta.
Organisers of the Colbun farm say they will be working with a variety of laboratories and universities to develop cannabis-based therapies that can help patients with chronic pain, complications from cancer and epilepsy, among other conditions.