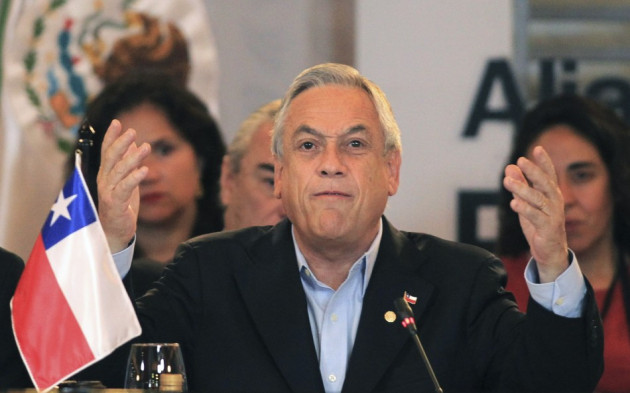 The Chilean president has been criticised for praising a "brave and mature" 11-year-old rape victim who said she was happy to have the child fathered by the rapist.
President Sebastián Pinera said the girl's to conceive a child after being repeatedly raped by her mother's partner showed "depth and maturity" in a case which has reignited the abortion row in the conservative South American country.
Abortion is illegal in Chile, even in cases of rape and medical emergencies. The strict rule has been in place since General Augusto Pinochet's dictatorship and Pinera's government shows no desire to change the law.
After the girl said in a TV interview that giving birth to the child would be like "having a doll", Pinera said he had asked the health minister to personally look after the girl.
He added: "She's 14 weeks pregnant and she surprised us all with words showing depth and maturity when she said that despite the pain caused by the man who raped her, she wanted to have and take care of her baby."
His comments were slammed as having no basis in scientific understanding or the psychological affect of the assault on the girl.
Giorgio Agostini, a forensic psychologist who specialises in child sex abuse cases, said: "At that age the girl doesn't have a capacity of discernment, not even at age 14 would she have the mental and emotional capacity to discern this.
"What the president is saying doesn't get close to the psychological truth of an 11-year-old-girl. It's a subjective view that is not based on any scientific reasoning to support it."
The case has sparked a public debate about abortion laws in Chile.
The girl was repeatedly raped over a two-year period by her mother's partner, who later confessed to abusing her. Her mother then caused outrage by defending him and saying it was a consensual relationship.
Former president Michelle Bachelet, the frontrunner in the 17 November presidential elections, is in favour of changing the law to allow an abortion in the case of rape or risks to the health of the mother or the child.
She told local Radio ADN:" She's a girl who needs to be protected and therefore I think a therapeutic abortion, in this case because of rape, would be in order."
Chile is one of seven Latin American countries where abortion is banned.