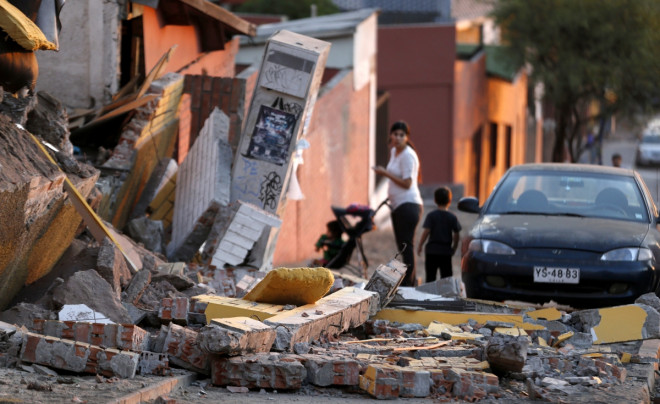 A day after Chile was struck by an 8.2-magnitude earthquake off the coast of Iquique, strong tremors measuring 7.8 on the Richter scale rocked the same area, but this time the epicentre was south of the port city.
The fresh quake again triggered a tsunami warning for Northern Chile and Peru, which was cancelled 45 minutes after the major seismic activity at 02:43 GMT.
Aftershocks are keeping the coastal cities of Chile on edge, even as people were returning after the havoc wrought upon by the 8.2 magnitude quake.
Preventive evacuation of the areas near the epicentre was ordered by Chile's Emergency Office and over 900,000 people moved to safer places.
The frequent earthquakes have led to landslides and power outages in the affected regions, posing further challenges for smooth movement of people trying to leave the danger zone.
There were no reports of injuries or additional damage caused by the latest earthquake, but the tremors shook buildings.
Chile has strict building codes as the region lies along a fault line known as the pacific "ring of fire", which explain the relatively low casualties and damage caused by an earthquake of such a great magnitude.
"People are more familiar with them [building codes]," John Bellini, a Denver-based geophysicist told CNN. "They, in general, know what to do as part of their daily lives, plus the building codes are fairly well-enforced in Chile. It's in their culture."
Thousands of homes made of adobe did suffer acute structural damage. Most of them were built with government subsidies and had lax safety standards, said Ramon Galleguillos, Mayor of Alto Hospicio.
Chilean President Michelle Bachelet visited the quake-hit region and complimented local authorities and people on their calm response to the calamity.
"I think you have shown us all a tremendous example," she said.
"We are here to recognise the calm behaviour of the people of Iquique, who showed great civic responsibility, as did those of Arica."
Tsunami hits Japan
Minor tsunami waves hit coasts in northern Japan following the 8.2-magnitude earthquake near Chile.
About 20-cm high waves were recorded in Kuji, Iwate prefecture, early in the morning at 6:52, local time.
Japan had earlier issued a tsunami warning on its eastern Pacific coast, expecting waves as high as one metre above sea level to hit the country, which was devastated by a quake and tsunami three years ago.