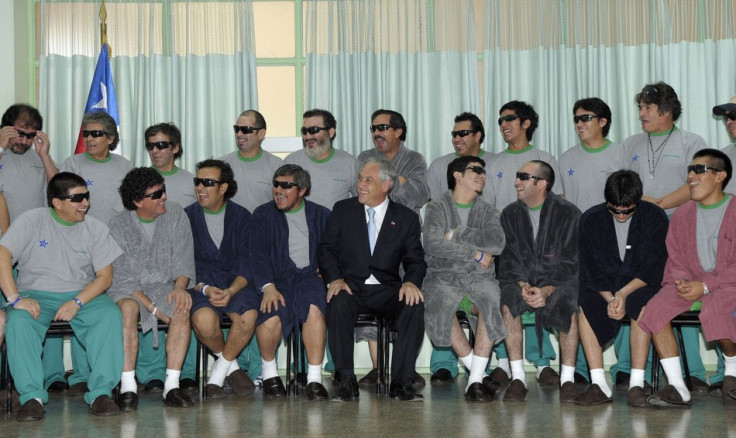 One year ago today, the rescue of 33 Chilean miners who had been trapped nearly half a mile underground for 69 days began. Immediately after the daring rescue from the San Jose mine, fame and admiration were thrust upon the "Los 33" as the story of their horrific ordeal and survival became worldwide news.
Now, 12 months later, with the media attention and worldwide spotlight a distant memory, the 33 miners are now being forced to cope with different ordeals - including poverty, psychological trauma and even drug and alcohol problems.
For nearly two months, the world watched and focused on the miners' every move as technology allowed pictures from 700 metres below ground to be shown across living rooms all over the world. People watched for hours as the televised film crews documented the painstaking rescue, as one by one each of the miners were lifted to the surface and presented to the world.
The "Los 33" became instant celebrities, a symbol of hope and courage with a story of survival against the odds tailor made for a film adaptation. They were invited to Wembley stadium where they were cheered by 75,000 fans, they travelled the world visiting Los Angeles, Disney World and the Greek Islands - all paid for by people who felt inspired by their story.
But today, many of the miners have returned to poverty, some of who are even worse off than before.
Out of the original 33, only a handful have found steady jobs, with just four returning to mining. Nine miners receive sick-pay for prolonged post-traumatic stress, 14 were granted early retirement pension equal to $500 a month, half the amount they made working in the mines.
After the rescue, each miner received $15,000 by a local businessman, but for most, the money has run out. One of the miners, Osman Araya, used the money to buy a van, which he now sells vegetables out of in Copiapo market to earn a living. Dario Segovia, a former drill operator, sells fruit in the same market.
Many potential employers in the town of Copiapo have declined to hire the miners; fearing that they are still psychologically scarred.
Many have psychological and medical problems, said Dr Jean Romagnoli, a lead doctor in the rescue operation.
"They are taking uppers, downers, stabilisers, I think they are over prescribed ... They don't understand why they are taking them but they are fed up with pills," he said. "It is not pills they need, but the tools to deal with fame and the tools to renovate themselves."
20-year-old Jimmy Sanchez, another one of the jobless miners, currently travels on an 11-hour round trip twice a month to visit a psychiatrist.
"Most of us are in the same place with emotional and psychological problems," said Mr. Sánchez.
"It was the fear that we would never again see our families, that we were going to die. We just can't shake those memories."
Edison Peña was one of the few miners to originally take to the fame well, appearing on Late Show with David Letterman and ran in the New York City Marathon weeks after his release, but who is now in a psychiatric clinic
"They made us feel like heroes," said Peña, 35. "In the end, we are selling peanuts. It's ironic, isn't it?"
On Thursday to mark the one-year anniversary of the rescue, a 39-foot statue donated by the Chinese foundation will be revealed in Copiapo. The miners say that they have been better appreciated abroad than at home in Chile. "We feel a little abandoned here," said Mr. Peña.
Jonathan Franklin, author of the book '33 Men' which chronicles the miners' first 17 days trapped underground, mentions how the miners have been "kind of thrown out into the street. They are invisible in Chile."
But it seems they have not been so quickly forgotten elsewhere in the world. A Hollywood movie deal is in production after Michael Medavoy, who had previously worked on Oscar-winning 'Black Swan' bought the rights to the movie. The film, to be written by Motorcycle Diaries writer Jose Rivera, is set to be released in 2013.
An official book is also due to be written by Pulitzer Prize-winning Los Angeles Times journalist Hector Tobar, both of which are set to be financial rewarding for the 33 miners.