Portugal's worst forest fires in living memory have so far claimed the lives of 62 people, most of whom died in their cars as they tried to flee the inferno.
Photos of the aftermath and the chilling statistics paint a horrific picture. Interior Ministry official Jorge Gomes said at least 30 people died inside their cars on a section of road between the towns of Figueiro dos Vinhos and Castanheira de Pera. He said 17 others died next to their cars or on the roadside, suggesting they had probably abandoned their vehicles in panic. Eleven people died in the forest, two people died in a car accident related to the fire, and information is missing on the other deaths.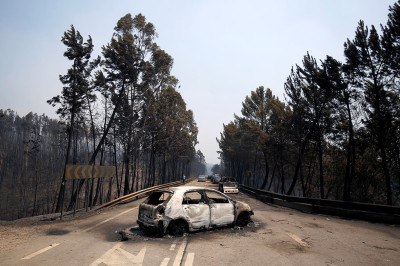 Prime Minister Antonio Costa said the death toll could rise as firefighters inspected charred remains of some buildings in remote villages.
The fire broke out in a forest near the town of Pedrogao Grande, about 200 kilometres northeast of Lisbon at around 15:00 on Saturday (17 June). Police said the blaze was probably caused by a lightning strike hitting a tree during a phenomenon known as a dry thunderstorm, in which falling raindrops evaporate before reaching the ground because of high temperatures.
Scorching weather, with temperatures above 40 degrees Celsius (104 Fahrenheit), as well as strong winds and dry woodland after weeks with little rain are fuelling the blazes.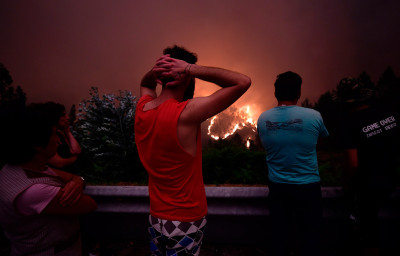 The prime minister said the emergency services acted as fast as they could but acknowledged that some of the efforts like alerting the population might have been hindered because the blaze had destroyed phone lines and communications towers.
More than 1,000 firefighters are still battling to tackle the blaze on several fronts. At their peak there were 156 forest fires, with nearly 1,700 firefighters trying to contain them. France and Italy have sent water-dropping planes as part of a European Union cooperation programme.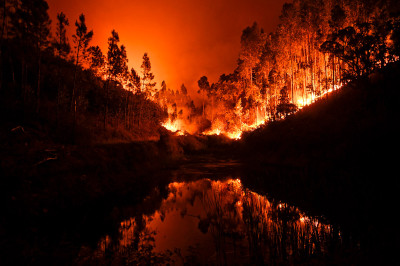 The government declared three days of mourning. "The dimensions of this fire have caused a human tragedy beyond any in our memory," Prime Minister Antonio Costa told reporters as he arrived at the scene on Sunday. "Something extraordinary has taken place and we have to wait for experts to properly determine its causes."