A Chinese ship was accused of committing an "aggressive act" towards a Philippine Navy plane on patrol in the disputed South China Sea, a Philippine military spokesman said on Friday.
The Chinese vessel flashed powerful lights and radioed the Philippine plane to leave the area near Subi Reef, one of the islands in the Spratlys chain occupied by the Philippines, Lieutenant Colonel Harold Cabunocs, said.
"You are entering Chinese territory, leave," Cabunocs quoted to the press what the Chinese crew said to the Philippine plane.
"This is an aggressive action on the part of the Chinese vessel," he added.
Cabunocs said the pilots ignored the Chinese ship's actions on 19 April to avoid escalating the confrontation, according to an Associated Press report.
Disputed sea
The Subi Reef where the incident took place is one of among hundreds of Spratly islets, coral reefs and shoals in the South China Sea which are claimed by China, Philippines, Vietnam, Taiwan, Malaysia and Brunei.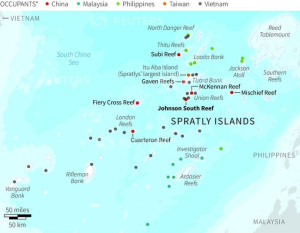 The area is thought to have significant oil and natural gas reserves. Only around 50 islands are occupied by troops from the countries with competing claims, Foreign Policy reported.
China claims most of the sea on historical grounds, and in recent years has dispatched vessels and patrols to stake its claim, alarming neighbours and their allies.
Satellite images have shown massive reclamation work on seven islands, which the Philippines and the US fear could be used to build bases for refueling naval and air patrols and establishing a stronger military presence.
In Beijing, Foreign Ministry spokesman Hong Lei said that Philippine planes had "illegally flown over Chinese waters on numerous occasions recently" and that Chinese forces had issued a radio warning. He said it was "untrue" that a powerful light was used against the Philippine plane.
He said that China's armed forces will continue to conduct surveillance over the waters and skies in the area, the official Xinhua News Agency reported.
Challenging China
The Philippines filed a case in 2013 with the international arbitration tribunal challenging China's claims, according to AP.
The head of the Philippine Fisheries Bureau, Asis Perez, called on the international community o stop China's reclamation activities, saying they caused massive coral destruction that will take thousands of years to repair.
"This is not a simple dispute over territory, but there is actually a huge environmental impact that will affect not just us," he said.
Beijing says the structures being built are for public service use and to support Chinese fishermen, AP said.
At a summit next week, Southeast Asian leaders will seek ways to hasten plans for a binding code with China that will govern behavior in the disputed South China Sea. Malaysian Foreign Minister Anifah Aman said the reclamation work and the code of conduct will be an "important topic" at the summit starting Monday.